Trump Predicts Endorsements From Senators Coming 'Very Soon'
by and
Says wishes same-sex marriage decision had been left to states

Snowstorm forecast for Iowa as voters prepare to caucus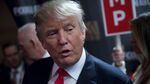 Donald Trump on Sunday predicted the establishment branch of his party will soon embrace the unorthodox campaign that has vaulted the billionaire real estate developer to the head of the 2016 Republican presidential field.
Asked in an interview on "This Week With George Stephanopoulos" about his lack of endorsements from U.S. senators and other Republican Party leaders, Trump said, "They will be very soon. You watch."
The conservative "National Review" magazine this month devoted its cover story to a take-down of Trump, saying the reality show star was "a philosophically unmoored political opportunist." If anything, Trump's support has solidified since the magazine's release.
"I have great endorsements, and many, many more are coming, I will tell you," Trump said on ABC. He added that fellow candidate Ted Cruz of Texas, a sitting U.S. senator, "doesn't have one endorsement from one senator."
Trump spoke as most Republican candidates crisscrossed Iowa making their final appeals to supporters ahead of Monday's caucuses, the first nominating contest for 2016.
No Must-Win
The reality television show host tamped down expectations, saying on CBS News' "Face the Nation" that he didn't consider Iowa a must-win.  
"No, I don't have to win it," Trump said in an interview taped in New Hampshire on Thursday. "But I think it would be really good to win Iowa. I'd like to win Iowa."
Trump's prospects got a boost on Saturday when a Bloomberg Politics/Des Moines Register poll showed he'd pulled slightly ahead of Cruz, by 28 percent to 23 percent, in a survey taken Jan. 26-29. The poll's margin of error was plus or minus 4 percentage points.
Monday's result is likely to hinge on turnout, especially among evangelical voters and those attending the caucus for the first time, the pollsters forecast. Trump leads Cruz by 4 points among those who say they will definitely attend, and by 6 points among those who say they'll probably attend.
Blizzard Watch
"They say the more people that get out, the better I do. And I think we're going to have a big crowd," Trump said on ABC. And on "Fox News Sunday," the thrice-married Trump lauded a "special" bond with evangelical Christians: "We've had tremendous support from ministers, pastors, and from Christians generally, and evangelicals."
Weather will be a wildcard, though, with snow forecast to start Monday night and Iowa under a blizzard watch starting 3 a.m. local time on Tuesday, according to the National Weather Service.
Taking up a divisive social issue, Trump said he wished the U.S. Supreme Court had left the issue of same-sex marriage to the states and would "strongly consider" appointing judges inclined to reverse the decision. The nation's top court in 2015 made gay marriage legal nationwide.
"They have ruled on it. I wish it was done by the states," Trump said on Fox. "It should be a states' rights issue and that's the way it should have been ruled on."
Before it's here, it's on the Bloomberg Terminal.
LEARN MORE