Obama Seeks $4.1 Billion to Expand Computer Programming Classes
by
Apple Inc., Google Inc. and Microsoft Corp. to support plan

President to include initiative in fiscal 2017 budget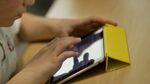 President Barack Obama will ask Congress for $4.1 billion to expand computer programming classes in every public school, the White House said today.
The proposal, backed by technology firms including Apple Inc., Google Inc. and Microsoft Corp., will be included in Obama's fiscal 2017 budget, to be released Feb. 9. Teaching basic coding to more grade-school children is necessary to expand the U.S. economy, Obama said.
"In the new economy, computer science isn't an optional skill -- it's a basic skill," Obama said Saturday in his weekly television and radio address. "I've got a plan to help make sure all our kids get an opportunity to learn computer science."
The president's "Computer Science For All Initiative" would provide $4 billion to states and $100 million to school districts over three years, money that could be used to train teachers, expand course offerings and improve programs that encourage girls and minorities to pursue technology careers.
The White House said technology companies had pledged to increase their own investments in computer-science education as part of the initiative.
"We are the country that has been at the forefront of the digital revolution," Megan Smith, Obama's chief technology officer and a former Google executive, told reporters on a conference call Friday. "We want to continue that amazing American legacy on into the future."
Before it's here, it's on the Bloomberg Terminal.
LEARN MORE