Kasich, Basking in New York Times Endorsement, Flies Solo in New Hampshire
by
Ohio Republican received backing of New York paper's editors

``New York values'' used as code in party's primary battle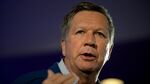 With his Republican rivals half a continent away ahead of Iowa's first-in-the-nation caucuses, Ohio Governor John Kasich criss-crossed New Hampshire in his campaign bus hours after receiving the New York Times' endorsement.
Addressing reporters before a town hall meeting in Keene, Kasich said he isn't worried that the Times' backing could hurt him in a year when Republican voters seem drawn to outsiders, and the term "New York values" has been used as code for the kind of policy positions Republican voters don't like.
"When people like the New York Times say 'this is the guy who can bring people together and solve problems,' how is that not helpful?" Kasich, wearing a black fleece jacket emblazoned with his campaign logo, said after emerging from the bus.
Texas Senator Ted Cruz this month assailed New York billionaire Donald Trump on those supposed values, including the front-runner's past support for abortion rights. Holding New York values means being "socially liberal, or pro-abortion, or pro-gay marriage," Cruz has said.
Kasich, 63, a former nine-term member of Congress, is considered part of the establishment wing of his party. He's made the Granite State and retail politicking a key to his strategy, and has pulled into second place behind Trump in recent opinion polls there.
"When you get seven out of eight endorsements here in this great state, when you get something like the Times and the Boston Globe, it says you have the ability to win the general election," Kasich said.
Kasich has jumped in New Hampshire, where he had 13.2 percent support compared to Trump's 31.4 percent, according to the Real Clear Politics average of recent polling data. He's struggled to match that level of success nationally, where the same ranking places him eighth in the Republican nomination fight.
"Governor John Kasich of Ohio, though a distinct underdog, is the only plausible choice for Republicans tired of the extremism and inexperience on display in this race," the New York Times editorial board wrote in its endorsement on Saturday. The paper endorsed Democrat Hillary Clinton in her party's primary race.
While Kasich has so far highlighted the "positive" message of his campaign, he also has become embroiled in a fight with former Florida Governor Jeb Bush, another establishment candidate. A super PAC backing Bush has run television ads in New Hampshire highlighting what they say is Kasich's record of expanding Medicaid in Ohio, and calling him outside of Republican orthodoxy.
Kasich supporters marched outside Bush's campaign office in Manchester, New Hampshire, on Friday in the escalating war of words ahead of the state's Feb. 9 primary.
"I'm not going to let someone pound on me and just get away with it," Kasich said during the quick meeting with reporters in Keene. "We have the Bush billionaires coming after me and we're going to respond."
Before it's here, it's on the Bloomberg Terminal.
LEARN MORE