Bush Embraces the Family Brand, Collects Governors' Endorsements
by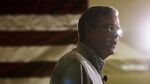 Jeb Bush emphatically embraced his family's political legacy ahead of the Iowa caucuses as his presidential campaign collected endorsements from a trio of former governors. 
On the campaign trail on Friday, the former Florida governor earned applause for a lengthy answer to a question about his father and brother, who both held the office he's seeking.
"I'm Jeb -- exclamation point -- proud to be a Bush," Bush told voters in Carroll, Iowa, poking fun at his campaign logo that features his first name followed by the emphatic punctuation.
Recent polls in Iowa, which holds its caucuses on Monday, show the party's one-time front-runner languishing in fifth place, with support from about 4 percent of Republicans who are likely to turn out. Bush set modest goals for the nation's first presidential nomination contest during an interview this week, saying he wants to out-perform his poll numbers and gain momentum heading into New Hampshire's primary on Feb. 10. 
Bush's campaign rolled out endorsements from three former governors on Friday: Frank Keating of Oklahoma, Dirk Kempthorne of Idaho, and Lincoln Almond of Rhode Island. Kempthorne was also a U.S. senator and secretary of the interior in the administration of Bush's brother, George W. Bush. 
Bush, who served as Florida governor from 1999 to 2007, now has backing from 15 former governors, according to his campaign.
Statements from the latest three endorsers echoed many of the criticisms Bush has aimed at Republican front-runner Donald Trump, the New York businessman and reality TV show host.
"The times are too turbulent to choose a captain who has never paddled a boat," Keating said. "We need a mature and strong man at the helm. Jeb is that man."
Bush has struggled to address voters' concerns about electing a third Bush to the White House. This week, he more forcefully sought to embrace his family ties.
At Thursday's Republican presidential debate, the moderators pointed out that Bush's pedigree firmly entrenches him in the party's establishment in a year when Republican voters are seeking change.
"Fine, I'll take it. I guess I'm part of the establishment because Barbara Bush is my mom," Bush said to applause from the crowd. "I'll take that, too." The Bush family matriarch, 90, will campaign for her son in New Hampshire after the Iowa caucuses.  
When asked on Friday how he differs from his brother and father, Bush pointed to his marriage to Columba, whom he met as a teenager in Mexico and married in 1974, and their early life together in Venezuela.
He acknowledged "mistakes were made" in Iraq when his brother was president. He said he is more "cerebral" and his brother is "more disciplined, more focused."
"I admire George's fortitude, his dogged determination when we were under attack," Bush said. "To me, that was inspiring."
Bush told Bloomberg this week that he'll soon campaign with his brother, probably in time for the Feb. 20 primary in South Carolina, where both former Bush presidents won nominating contests. The Bush campaign also featured George W. Bush on a mailer that was sent to Iowa caucus-goers this week. 
The mailer included a letter from the former president, which asked voters to "please caucus" for his brother.
Before it's here, it's on the Bloomberg Terminal.
LEARN MORE