Split Screen
Debate, Trump Event Are Absurdity Squared
The campaign reaches a nadir of media hype.
by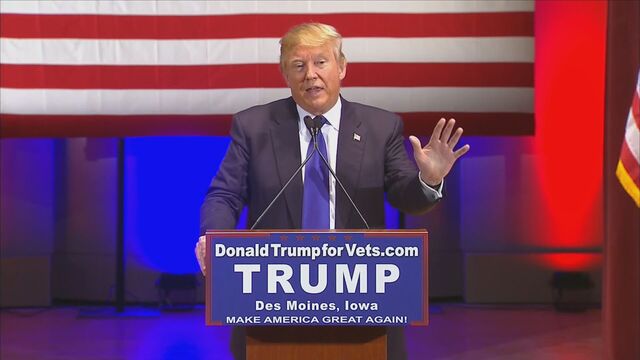 The lunacy of the way the Republican presidential campaign has been covered, discussed, and constructed could be encapsulated by contrasting what was airing at 8:45 ET on Fox News, the network airing the final debate before the state of Iowa casts the first votes of 2016, and on CNN, a network that wasn't.
The swirling absurdity was apparent 15 minutes before the events began. Fox News featured two people previewing an debate that featured seven presidential candidates; CNN featured nine (nine!) people previewing an event that featured one.
The inadvertent comedy continued. A Brianna Keilar interview with Republican front-runner Donald Trump on his private plane on CNN was touted like some sort of guerrilla counter-programming. At one point, one of the nine people on Anderson Cooper's CNN panel talked, and Cooper literally could not figure out which person had said it—"It came from that side over there, I think," he said. Bill O'Reilly asked Dana Perino three questions about Trump and one question about each candidate who would be appearing on the network in a matter of seconds. And everyone wondered if Trump was gonna show up after all.
The simulcast was particularly absurd because, ultimately, all this rigmarole was pointless. Trump put together the most boring event of his entire campaign, an event so dull that MSNBC and CNN—who would have loved nothing more than to stick it to Fox News with a more entertaining, better rated event than their big night, who were craving for it—cut away 15 minutes into it, with anchors muttering about just how boring an event it was, only dipping back in occasionally. Prime casualties were Rick Santorum and Mike Huckabee, who hopped over to Trump's event hoping for some free air time, showed up right after CNN moved onto something else. CNN host Don Lemon said, "We'll dip in as soon as Trump starts to talk about policy or other issues," which was unquestionably the funniest thing anyone said all night.
The capstone was that the website that Trump supposedly set up for his event so that money could be raised for veterans, donaldtrumpforvets.com, seemed to be down all evening.
"Anticlimax" is much too kind a word for what occurred. An entire day of intrigue that embroiled most of the political universe—would Trump show up at the last minute? Would Megyn Kelly trash Trump? Would Ted Cruz become the new target for everyone? Why are we obsessed with whether or not a television network had apologized to a presidential candidate?—ended up being about nothing. The only entertaining moment of synergy was a Cruz line. 
We didn't even get a good fight out of it: Trump essentially forgave Fox during the Keilar interview, and the regular debate clearly lacked juice without Trump showing up and goosing everybody in the first five minutes.
The great joke of it, of course: Most Iowans, I suspect, missed all of it. They were probably watching their No. 3 ranked Iowa Hawkeyes basketball team fall just short in a 74-68 loss to the No. 8 Maryland Terrapins rather than watching either. One suspects, despite the loss, they chose wisely.
So much of this primary season has been about hype. Cable networks have promoted debates like they were prizefights. Ratings, and polls, have become the centerpieces of the discussion rather than guideposts to it. And everybody keeps wanting the candidates to fight with each other. (Including the candidates.) Tonight the trend reached its nadir—television hype moving toward no actual product. This is what happens when you excise Trump—or, more accurately, he excises himself—from a presidential election he's leading: Seven candidates looking for someone to yell at and not quite knowing what to do without one, one front-runner with no one to insult and possibly imagining apologies that weren't there and nine people on a channel that's not even showing the debate trying to get a word in edgewise about nothing that anyone particularly understands. Trump needs his opponents. The opponents need him. The networks need both. If it's not too late already.
The ratings for the debates have been falling for a couple of months now, and tonight will likely be no exception, for both the channel that hosted the debate and the channels who hoped Trump would provide them some free pop. Considering how much of the coverage of this primary has been concerned with those very ratings, it is perhaps fitting that they are collapsing at the precise moment when people, theoretically anyway, should be watching the most. This was the last opportunity for Iowans to get a sense of these candidates, and the issues of this election, before heading to their caucuses on Monday night. This was meant to be a chance to educate them in the final days. And this is what we gave them, the networks, the candidates, the commentators, all of it. One imagines them staring at their screens tonight, blinking, baffled.
Before it's here, it's on the Bloomberg Terminal.
LEARN MORE