Cruz Has $19 Million in the Bank, Top Aide Says
by and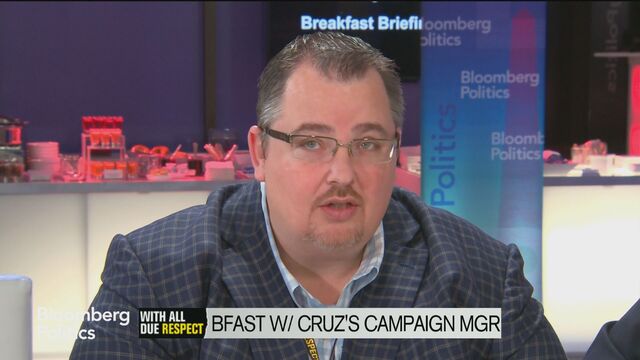 Ted Cruz's campaign had $19 million in the bank as of Dec. 31, campaign manager Jeff Roe told reporters on Friday at a Bloomberg Politics breakfast briefing in Des Moines, Iowa.
He argued that the campaign is built for the long haul and that Cruz is the only candidate who can defeat Donald Trump, whether or not Cruz wins Iowa in the first-in-the-nation caucuses on Monday.
"I think it's gonna be a record turnout," Roe said. Most analysts say a large turnout could favor Trump since it would suggest his unconventional campaign has drawn new voters out to support him.

Any conservative vote cast for a candidate other than Cruz is a "wasted vote," Roe said, predicting that Marco Rubio wouldn't be a "close" third.
He also predicted that by March 1, the Texas senator will have more endorsements than any candidate for the Republican nomination.
Roe said the campaign has identified crossover voters between Cruz and rivals and is focused on turning them out in the Hawkeye State. Roe named 2,807 torn between Cruz and Rubio, 3,185 split between Cruz and Ben Carson, and 9,131 between Cruz and Trump.
Roe rejected the idea that Trump could run the table en route to the nomination if the New Yorker wins both Iowa and New Hampshire. "That's a historical view. ... It's hard for people to think outside of historical perspectives," he said. "Each state has a diagnostic evaluation based on the geography and demographics."
He said Trump's appeal to evangelicals is that he's "spitting fire" at those who look down on church-goers and gun owners.
"When you word-cloud Mr. Trump, why you're voting for him, it is politically incorrect, the big word," Roe said. "What's he going to say that's gonna put him over the edge? Nothing, because that's his brand. That is appealing to a lot of people who are pissed off at the way they're treated."
Before it's here, it's on the Bloomberg Terminal.
LEARN MORE