Republicans Revel in Trump-Free Debate as He Holds Competing Event
With just four days before the Iowa caucuses, the stakes are sky-high as Cruz's lead has been all but erased and the brash New Yorker stood atop recent polls.
by and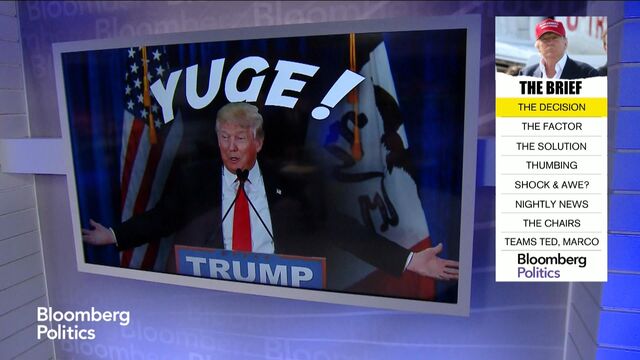 The first Donald Trump-free Republican debate began Thursday night in Des Moines with chief rivals reveling in the chance to hit the front-runner without him hitting back—and actually get some attention themselves.
"I'm a maniac, and everyone on this stage is stupid, fat and ugly. and Ben, you're a terrible surgeon. Now that we've gotten the Donald Trump part out of the way...," began Ted Cruz, mocking his chief rival's proclivity for insults as he kicked off one of the most unusual nights in one of the most unusual presidential primaries in modern history.
"It's not about Donald Trump. He's an entertaining guy. He's the greatest show on earth," said U.S. Senator Marco Rubio, before launching into his promise to reverse the policies of President Barack Obama.
In a theatrical twist, Trump refused to show up amid a feud with debate moderator Megyn Kelly of Fox News, and instead spoke before a capacity crowd of about 500 people in an auditorium on Drake University's campus just two and a half miles away.
"We have to stick up for ourselves as people, and we have to stick up for our country when we're being mistreated," Trump said. "Will I get more votes, will I get less votes, who the hell knows? But it's for our vets..."
Still, signs of a detente between Trump and Fox News emerged. Trump said the network called him just before he walked on stage and invited him to come to the debate. But he said once he committed to the veterans events, he felt he couldn't leave it.
In a statement released during Trump's rally, Fox News said that Trump offered the network a quid pro quo: if they contributed $5 million to his charities, he would appear at the debate.
"We explained that was not possible and we could not engage in a quid pro quo, nor could any money change hands for any reason," the statement said. "In the last 48 hours, we've kept two issues at the forefront—we would never compromise our journalistic standards and we would always stand by our journalist, Megyn Kelly. We have accomplished those two goals and we are pleased with the outcome."
Back at the debate, Republicans on stage took more digs at Trump.
"If you guys ask one more mean question I might have to leave the stage!," Cruz told the moderators.
"Don't worry I'm not leaving the stage no matter what you ask me," Rubio said moments later.
With just four days before the Iowa caucuses, the stakes are sky-high as Cruz's lead has been all but erased and the brash New Yorker stood atop recent surveys. Trump's move carries the risk of alienating Iowans who demand much of candidates, but like dozens of other unorthodox moves he has made it's far from clear the billionaire had more to lose than gained with his daring exploit.
"I kinda miss Donald. He was a real teddy bear to me," said Jeb Bush, who has clashed intensely with Trump. "Everybody else was in the witness protection program when I went after him."
The prospect of a ratings face-off between Trump, whose rally was broadcast live on CNN and MSNBC, and the rest of the field is just the latest test of his media dominance over his challengers. The debate gave Americans their first glimpse of the presidential race that could have been, before the brash billionaire jumped in and upended the race.
Trump's rally is billed as a fundraiser veterans groups, and he told reporters Thursday that the has already raised more than $5 million for veterans, including $400,000 from a website he launched, $1 million of his own money, and a $500,000 contribution from Carl Icahn.
Polls have Trump leading rival Cruz, of Texas, in Iowa and he maintains a dominant lead in national polls, too, but the impact of his absence on the debate stage just days before the Feb. 1 Iowa caucuses remains unknown. 
The billionaire was expected to appear at the rally with his sons, Donald Jr. and Eric. Mike Huckabee and Rick Santorum, of Pennsylvania—both previous winners of the caucuses—also attended the event at the conclusion of the Republican undercard debate.  
Held two hours before the main Republican event, the undercard debate featured lower-polling candidates Carly Fiorina, Huckabee, Santorum and Jim Gilmore. As with prior second-tier forums, the candidates spent the bulk of their allotted time either attacking President Obama or Democratic front-runner Hillary Clinton. 
"If my husband did what Bill Clinton did, I would have left him long ago," said Fiorina, the former CEO of Hewlett Packard, adding that the "Clinton way" was "you lie as long as you can get away with it."
One exception was Huckabee, the former governor of Arkansas, who took issue with Democratic candidate Bernie Sanders' populist message. Huckabee said he was not sure how anyone with an "IQ above plant life" would support socialistic system in which government owns private property, and has the power to "dole out what they thought we should have." 
"I'm not feeling the Bern," Huckabee concluded.
—With assistance from Mark Niquette, Michael C. Bender, Kevin Cirilli, and Sahil Kapur in Des Moines.
Before it's here, it's on the Bloomberg Terminal.
LEARN MORE