Bernie Sanders Releases Physician Letter Attesting to His Good Health
by and
Doctor of 26 years says senator is active with no limitations

Democrat had promised to release records before Iowa caucuses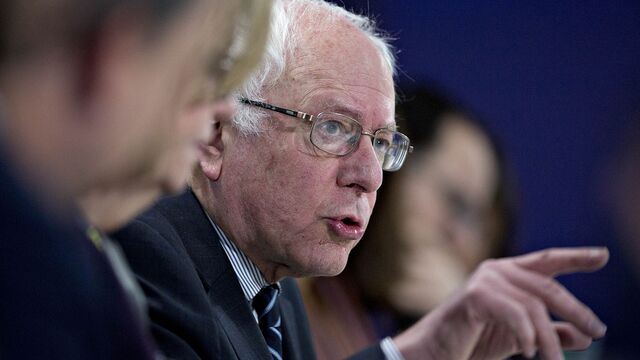 Democratic presidential candidate Bernie Sanders, who would be the oldest man to be elected should he win, is in good health, according to an overview of his medical history that raised no questions about his fitness to hold office.
The 74-year-old Vermont senator doesn't have a history of cardiovascular disease, the nation's leading killer, and his blood pressure and cholesterol levels are within the normal range, according to the letter from Brian P. Monahan, the attending physician of the U.S. Congress, Sanders' doctor for the last 26 years. Unlike the vast majority of peers in his age group, Sanders takes just one medicine a day, levothyroxine, a hormone to treat underactive thyroid that can cause fatigue and weight gain.
"You are in overall very good health and active in your professional work, and recreational lifestyle without limitation," Monahan wrote. Sanders doesn't use tobacco, drinks alcohol infrequently and is up-to-date on vaccinations, the physician said.
Sanders' health records hold up against his Democratic opponent, former Secretary of State Hillary Clinton, and Republican rivals including Donald Trump and Jeb Bush, all of whom previously released letters from their doctors.
Clinton, 68, released a letter from her doctor, internist Lisa Bardack, in July that said she was "in excellent physical condition and fit to serve as President of the United States." Like Sanders, she suffers from underactive thyroid, or hypothyroidism. Bardack wrote that the condition is common in women over 60.
Trump, the front-runner for the Republican nomination, takes a daily aspirin and a pill to lower his cholesterol levels. Bush also takes medicine to lower cholesterol, and he was able to avoid medication for mildly elevated blood pressure and blood sugar levels with exercise. The former governor of Florida also takes vitamin D3, known as the sunshine vitamin. Neither has any chronic medical conditions.
While Sanders' most recent physical exam on Nov. 18 was normal, he has had his share of health problems over the years. He suffered from gout, a very painful form of arthritis, for which he sometimes take the generic drug indomethacin. Acid reflux caused Sanders to develop laryngitis and he's been treated for diverticulitis, an inflammation in the lining of the digestive system.
The senator has undergone surgery to repair two hernias, a weakening of the stomach muscles that can allow soft tissue to protrude. He also had superficial skin tumors, often found on those who are fair-skinned, and a cyst on his right true vocal cord removed.
Sanders is locked in a tight race in the Feb. 1 Iowa caucuses with Clinton and had promised to release his health records before the first-in-the-nation vote.
While Sanders' medical records didn't flag any potential health problems, Monahan didn't use superlatives, as Trump's doctor did. Harold Bornstein, a gasteroenterologist who has cared for Trump since 1980, said his patient would be the "healthiest individual ever elected" should he win the race for the nation's highest office.
Before it's here, it's on the Bloomberg Terminal.
LEARN MORE