Dark Money Dominates Political Ad Spending
Groups that don't have to disclose their donors have accounted for almost two-thirds of political ad spending this cycle.
by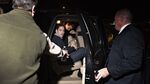 Presidential candidates, congressional hopefuls and the super-PACs that back them are preparing to disclose to voters Jan. 31 who has been providing the tens of millions of dollars they have poured into political ads. There's one hitch: that's only about a third of the money that's been spent shaping the elections.
The rest comes from so-called dark money groups—social welfare organizations, associations and others—which aren't required to reveal the interests behind them and have put up more than $213 million on political ads since the start of 2015, an analysis of Kantar Media CMAG data shows. The groups have promoted their views on everything from climate change to health-care policy to immigration. Official campaigns and super-political action committees have spent about $114 million.
American elections are being transformed by a series of court rulings, including the U.S. Supreme Court's 2010 Citizens United decision, which loosened decades-old limits on money in politics by declaring that political spending was a form of speech protected by the First Amendment. The decision opened the door for nonprofit trade associations, social welfare organizations and limited liability corporations to become more active in politics.
"The campaigns are more complex, as are the money networks, and it's much harder for the public to see what's going on behind the scenes," said Sheila Krumholz of the Center for Responsive Politics, which tracks money in politics. "Citizens United has given people the psychological confidence and cushion to operate in the shadows. Political operatives know they can do whatever they want so long as they stay within certain boundaries."
Even though election law gives corporations a free hand, tax law still restricts most nonprofits' political spending to less than half of their budget. Still, almost a quarter of the dark money spending in 2015—about $52.5 million—has gone for ads that specifically mention candidates for federal office, including $10.5 million on the presidential race.
The biggest spender there is the Conservative Solutions Project, a nonprofit formed in 2014 to support Republican Marco Rubio, a Florida senator. The group has spent about $8.1 million on ads featuring excerpts of Rubio's speeches on topics including foreign policy and the need for strong U.S. leadership. The group ran only one ad mentioning a politician other than Rubio: Tea Party favorite Mike Lee, a Republican senator from Utah, who worked on a tax overhaul plan with Rubio. While none of the ads asks viewers to vote for Rubio, they prominently feature his views, accomplishments and agenda.
Of Conservative Solutions Project's spending, $2.9 million has gone to national cable ads and the rest to the first three states with caucuses or primaries: Iowa ($1.3 million), New Hampshire ($1.5 million) and South Carolina ($2.4 million). Meanwhile, Conservative Solutions PAC, the super-PAC supporting Rubio, spent $1.7 million in Iowa, $2.8 million in New Hampshire and just $386,000 in South Carolina, according to CMAG data.
Conservative Solutions Project announced it had raised $15.8 million through in July 2015. That same month, according to a report in the New York Times, it said it planned to spend $20 million on issues advertisements, commercials that might mention federal officeholders and candidates without explicitly telling voters to support or oppose them. The group hasn't aired an ad since Nov. 23, and spokesman Jeff Sadosky said there aren't immediate plans to run any more.
"They're definitely gaming the system," said Paul Ryan of the Campaign Legal Center, a campaign finance watchdog. The group in November requested that the Tax Division of the Justice Department investigate whether Conservative Solutions Project was engaging in excessive campaign activity on Rubio's behalf.
Sadosky dismissed the complaint and said the group is simply focused on "advocating for a conservative agenda."
How much more money Conservative Solutions Project has raised won't become public until after the election. Its annual tax returns are due four months after the end of its fiscal year. Sadosky said returns covering June 2014 through May 2015 will be filed by April, but details about its financial activity during the presidential primary season won't become public until 2017.
Rubio isn't the only presidential contender with nonprofit backing. Jeb Bush is being supported by a group called Right to Rise Policy Solutions which also runs alongside the super-PAC that backs him, Right to Rise USA. While the super-PAC pays for ads, the nonprofit runs a website featuring policy papers on national security, education reform and biomedical innovation.
Until the current election cycle, dark money groups acted outside the network of organizations supporting campaigns. In 2012, for example, Americans for Prosperity, a nonprofit with ties to the wealthy libertarian and conservative donors Charles and David Koch, spent more than $33.5 million opposing President Barack Obama—all of it in the general election. In the current cycle, dark money is playing a role in the primaries.
Other nonprofit groups that have gone after presidential candidates don't have apparent links to active campaigns. The Foundation for a Secure and Prosperous America, a nonprofit founded in 2007 to support Republican John McCain's 2008 presidential run, spent $290,000 in early April 2015 running ads in markets serving Iowa, New Hampshire and South Carolina attacking Rand Paul for supporting nuclear negotiations with Iran. As recently as December 2014, according to its most recent filing with the Internal Revenue Service, the group had no income, and was about $4,500 in the red. 
Advertising by dark money groups may be even more effective than messages from the candidates themselves, according to Krumholz.
"If we're completely unfamiliar with a group and have no idea who's bankrolling it, instead of discounting its ad, voters give it more attention," said Krumholz. "That gives these groups more power to manipulate and influence voters."
Dark money groups are also bearing down on Senate races, where groups have spent more than $39 million since the start of 2015, according to the CMAG data. For example, Senator Pat Toomey, a Pennsylvania Republican, featured in more than $7.1 million worth of ads. The U.S. Chamber of Commerce, the American Chemistry Council and Concerned Veterans for America, a nonprofit with links to the network of organizations created by Charles and David Koch, spent almost $2.4 million touting aspects of Toomey's record. Planned Parenthood Action Fund, Environmental Defense Action Fund and the Natural Resources Defense Council spent $4.3 million criticizing him.
"Nonprofits want to shape races," said Travis Ridout, a political science professor at Washington State University, referring to the politically active groups that spend early on congressional candidates. "They want to be involved in Senate and House races across the country. They have more ideological goals, whereas super-PACs are moving into a single candidate role."
Still, the bulk of the political spending by dark money groups targeted issues without mentioning candidates—about $161 million of the $213 million spent. While most of the groups focused on legislative issues like the agreement with Iran over its nuclear program, lifting the ban on exports of U.S. crude oil, renewable fuel standards and other matters before Congress, there were some ads that were more subtle.
A group called Opportunity News Media LLC ran nine ads—two in Spanish—all narrated by a woman, highlighting the importance of education and having a job, all but one of which end with the tag line, "There are still people who believe opportunity lives in America, and we call ourselves Republicans." Kantar Campaign Media Analysis Group estimates the ads, the bulk of which aired in the swing states of Colorado and Ohio, cost more than $14 million to air. They ran between the last week of July 2015 and mid-September of that year.
"There may have been one large donor who thought this was a great idea, or maybe it's part of a larger strategy," said Ridout. "I'd be curious to know who's funding that."
Because it's a limited liability company, Opportunity News Media is not required to tell him. Or anyone else.
Before it's here, it's on the Bloomberg Terminal.
LEARN MORE