Trump Holds Dominant Lead in Bloomberg Poll of Primary Voters
An online poll conducted by Purple Strategies showed Trump's strong backing across the nation, and also signs of a very fluid race beyond Iowa.
by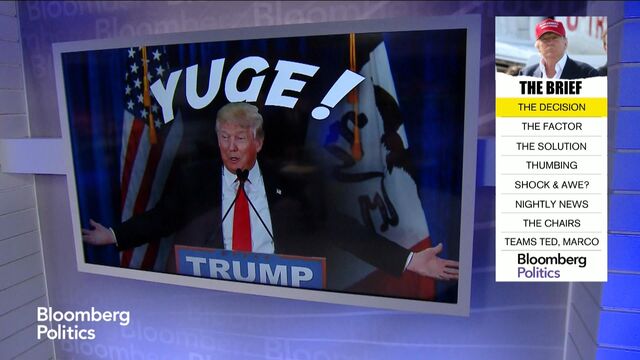 Donald Trump maintains a dominant lead among Republican primary voters across the nation, with Senator Marco Rubio and Senator Ted Cruz effectively tied for a distant second place, according to a Bloomberg Politics poll released Wednesday.
The poll of 1,020 likely Republican primary voters, conducted online by Purple Strategies from Jan. 22-26, found Trump leading with 34 percent. Rubio grabbed 14 percent and Cruz 12 percent, a 2-point difference that falls within the poll's margin of error of plus or minus 3.1 points. No other candidate registered in double digits.
Read the questions and methodology here.
The race remains fluid, with 71 percent of Republican primary voters saying that they can still be persuaded to support another candidate. Even among Republicans who did not back Trump, 52 percent of them said they could still be persuaded to do so; 42 percent said they could not. The rest remained unsure.
"Trump is continuing a long trend of polls that show him in a strong position nationally, but the poll suggests there could be more fluidity in the race after Iowa," said Doug Usher, a managing partner at Purple Strategies.
Only 50 percent of Republican primary voters who backed other candidates said they would vote for Trump if he became the Republican presidential nominee. The bulk of the remainder pledged they would vote for the Democratic nominee (13 percent); write in another candidate (13 percent); or skip voting altogether (5 percent). 
When presented with a list of reasons Trump's supporters might give for backing him, 66 percent answered that it was because "he tells the truths that other people won't say." The second most popular reason, at 53 percent, was that he is the "most authentic" candidate. Only 18 percent of his supporters felt he shared their view of the world.
In contrast, 51 percent of Republicans who didn't pick Trump cited his temperament as the reason why, while 31 percent agreed that he "insults women, minorities and other groups." Nearly a quarter of the non-Trump group called him "an embarrassment to the Republican party."
"Normally we assume that primary voters are driven by passion about issues—what we're seeing here with Trump is that people are passionate about his personality," Usher said. "What's striking is that the people who oppose him aren't opposing him because he's too liberal. It's because they don't like his style."
Before it's here, it's on the Bloomberg Terminal.
LEARN MORE