Looking Ahead
Sanders Takes Minnesota Detour From Iowa Stump
The Vermont senator, who trails Clinton in the polls in Minnesota, made stops in Duluth and St. Paul on Tuesday.
by and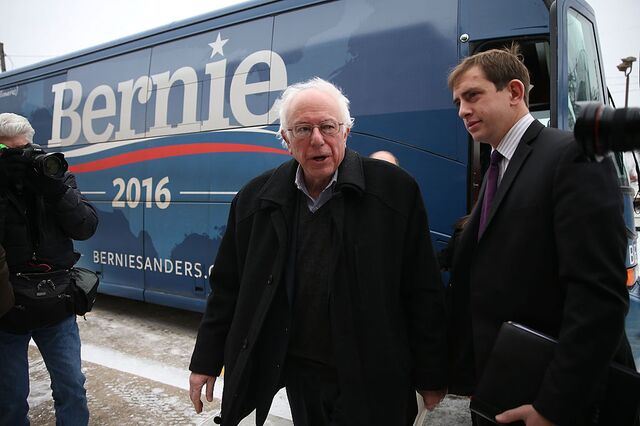 With less than a week before the Democratic Iowa caucuses, Bernie Sanders took an unexpected detour to Minnesota on Tuesday for rallies in Duluth and St. Paul.
Introduced by Representative Keith Ellison, a Minnesota Democrat, Sanders urged the audience of 6,000 who turned out to see him at the Duluth Entertainment Convention Center Arena to support him at the state's March 1 caucuses.
"This thing will be won on the ground. This thing will be won by you," Ellison said. "And as awesome as my dear friend Bernie Sanders is, and everyone in this room, we've got to expand our ranks so that we take this thing on March 1."
While winning in Iowa would give Sanders momentum heading into New Hampshire, Nevada, and South Carolina, his campaign is also looking ahead to Super Tuesday and beyond. While Iowa offers 53 delegates, Minnesota has 77 and over 800 delegates will be up for grabs Super Tuesday. 
"We have a long-game strategy," Jeff Weaver, Sanders's campaign manager, said in an interview. "We're holding events in Iowa every single day, but we did want to take a detour to speak to the people in Minnesota. It's an important state for us so we wanted to make sure that we get there and he gets to speak to the people of Minnesota."
Tuesday morning, Sanders held an event at United Steelworkers of America Local 310L in Des Moines, where he told reporters the Iowa race is "nip and tuck." He also said he thinks he has a lead in New Hampshire and is doing well in Nevada and South Carolina.
"To my mind, we will win here in Iowa if the voter turnout is high," Sanders said. "Frankly, if the voter turnout is not high then we're going to be struggling."
The same can be said for Minnesota, one of the March 1 states Sanders has a chance win. While Sanders has struggled with minority voters, Minnesota is 85 percent white. And its caucus system benefits campaigns that can effectively turn out enthusiastic supporters.
So far, Sanders is behind in both the polls and in endorsements. A Star Tribune poll of Minnesota registered Democrats released on January 24 found Clinton leading Sanders 59 percent to 25 percent. And while Sanders has Ellison's support, Clinton has been endorsed by the state's governor, lieutenant governor, both of its senators, and Ken Martin, the chairman of the Democratic-Farmer-Labor Party, the state's Democratic Party affiliate.
Martin said it came down to who is more qualified.
"There's a lot that I agree with Senator Sanders on, but ultimately what I'm looking for is someone who can hit the ground running on day one and build the coalition necessary to improve people's lives, and I think Hillary Clinton is that candidate for me," Martin said.
Clinton has been on the ground in Minnesota since August, while Sanders' campaign has been in the state since November, and opened its first office early December. But while Martin said he believes the Clinton camp has greater resources in the state, he added that a strong ground game doesn't necessarily translate to victory.
"What's ultimately going to matter is who shows up on caucus night and whose supporters are more enthusiastic to get out on a cold winter night here in Minnesota and participate," Martin said.
In Duluth, the crowd showed the energy Sanders's audiences have become known for, though some raised a concern that's also been voiced in Iowa: How will he get his agenda through a likely Republican-led Congress.
Nathaniel Chappelle, a 30-year-old physician from Duluth said he would "probably" caucus for Sanders because "I have a hard time getting excited about any other option." His concern is that Sanders won't be able to win enough support for his agenda. "It seems like the national mood doesn't influence what happens in Congress," he said.
Others were more optimistic. "It does worry me a little bit, but if he does win and becomes the president they're gonna have to work with him," said Megan Shelton, a 26-year-old public health nurse from Cromwell. 
Before it's here, it's on the Bloomberg Terminal.
LEARN MORE