Obama to Host Bernie Sanders at White House Ahead of Iowa Caucus
by
Sanders advances in polls, about even with Clinton in Iowa

White House spokesman says no agenda for informal discussion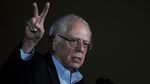 President Barack Obama will meet with Democratic presidential candidate Bernie Sanders on Wednesday at the White House, less than a week before the first-in-the-nation Iowa caucuses.
The Oval Office meeting will be informal and has no a set agenda, White House press secretary Josh Earnest said in a statement Tuesday. Sanders and the president discussed the possibility of meeting in December during a congressional holiday party, Earnest said.
The meeting comes as Sanders, a Vermont senator, has gained support in polls, threatening to overtake Obama's former secretary of state, Hillary Clinton, in Iowa. A CBS News poll released Monday showed Sanders leading Clinton, 47 percent to 46 percent, among the state's likely Democratic caucus goers.
Clinton has met informally with the president multiple times since leaving the administration. That included, most recently, a lunch on Dec. 7 that Earnest said in a statement was "mostly a social occasion."
Obama has not formally endorsed in the Democratic race. In a podcast interview with Politico that aired Monday, Obama said that Clinton was facing unfair scrutiny and that she is disadvantaged because she is a known quantity. He also praised her skills and intelligence.
Before it's here, it's on the Bloomberg Terminal.
LEARN MORE