Ben Carson Sets Top-Three Finish as Marker of Success in Iowa
by
One-time Republican frontrunner in state now polls fourth

Trump, Cruz vying for lead in first U.S. ballot of 2016 race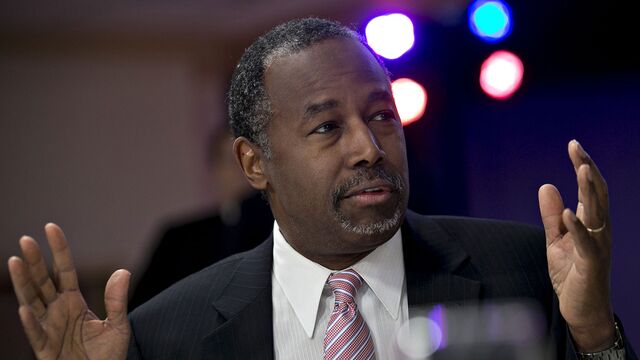 Republican presidential candidate Ben Carson said he'd consider a top-three finish in next week's Iowa caucuses a success, as current polls show him running fourth behind leaders Donald Trump and Ted Cruz, as well as Marco Rubio.
Carson suggested he would reassess his campaign if he falls out of the top three in Iowa, as polls in New Hampshire, another early-voting state, also show him trailing.
"I obviously would like to finish in the top three," Carson said said at a Bloomberg Politics breakfast in Des Moines, Iowa. "There's always a path, but you know, you always have to look at the trends, you have to look at what is happening, what are people saying."
Candidates from both parties are crisscrossing Iowa, an agricultural state of about 3 million people in the U.S. heartland that will hold the first votes of the 2016 election. The Feb. 1 balloting is expected to winnow the Republican field, especially candidates who've targeted -- as Carson has -- the religious conservative voters who make up much of the party's base here.
Carson, the one-time Iowa frontrunner, has slumped in the polls since October. This week, a Quinnipiac survey showed Carson in fourth place, with 7 percent support. His campaign has also had to endure a major staff shake-up, as his campaign manager, communications director and policy director quit simultaneously in late December. His finance chair also resigned earlier this month. Carson said the decision to change his staff came after a "deep dive" into his campaign infrastructure.
"When you start an organization from scratch, you have to trust people to some degree," Carson said. "You have to assume they all know what they're doing and that they are all fiscally responsible. As time goes on and you discover that maybe that isn't the case, you make corrections."
Before it's here, it's on the Bloomberg Terminal.
LEARN MORE