After White House Meeting, Sanders Says Obama Isn't Taking Sides
It comes after Sanders, in a Bloomberg Politics interview on Tuesday, said he and the president are friends.
by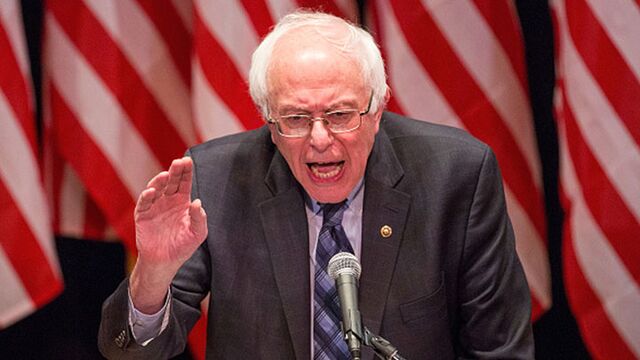 Bernie Sanders' meeting with President Barack Obama Wednesday morning came at a significant moment for the Democratic presidential candidate: In five days, Iowa Democrats will vote in the first-in-the-nation caucuses.
Both Sanders and his chief rival, Hillary Clinton, are competing to portray themselves as the person who will best preserve and build upon Obama's legacy. While the president has declared himself neutral in the race, two days earlier he strongly praised Clinton for her experience and her understanding that a president's job is "delivering the goods."
Sanders emerged from the White House meeting saying he didn't ask for Obama's endorsement nor did he expect it. Obama and Vice President Joe Biden, he said, have tried to be "evenhanded'' in the Democratic nomination contest.
Sanders said he didn't see Obama's comments in an interview with Politico as a de facto endorsement of his opponent. Most of the talk was not about 2016 politics but "just a discussion to get myself updated on some of the current issues facing this country,'' Sanders said.
During an interview Tuesday in St. Paul, Minnesota, where he had just spoken to a crowd of 14,000, Sanders said that while he and Obama are friends who have campaigned for one another, his friendship with Clinton puts him in a "difficult position."
While campaigning ahead of the Iowa caucuses, both Clinton and Sanders have worked to tie themselves to Obama. Clinton has pledged to protect his signature legislative achievement—the Affordable Care Act—while saying that Sanders wants to rip it up. On Tuesday, she enthusiastically responded to a voter's suggestion to appoint Obama to the Supreme Court, saying "I love that." Sanders, on Saturday, compared his candidacy—and the criticisms of inexperience and pie-in-the-sky ideas it has received from the Clinton campaign—to Obama's, and predicted Iowans would also choose him. 
Former Obama staffers have said they believe Clinton, not Sanders, is the natural heir to the president, and in the Politico interview the president gave her praise. Obama also said that Sanders has benefited from being an unknown quantity.
"Bernie came in with the luxury of being a complete long shot and just letting loose," he said. "I think Hillary came in with the both privilege—and burden—of being perceived as the front-runner." 
But in recent months, Sanders has surged in the polls in Iowa and New Hampshire, leaving Clinton seeking ways to push back. She has even agreed to participate in an unsanctioned Democratic debate on Feb. 4 in New Hampshire, planned by the state's Union Leader and MSNBC.
The Sanders campaign, however, won't commit to appearing in the debate, citing the Democratic National Committee's exclusion clause: Any candidate who appears in an unsanctioned debate will be barred from future debates. The DNC has declined to sanction the Feb. 4 debate. 
"I just spoke to Debbie Wasserman Schultz this evening and my hope is that the three candidates can sit down with the DNC and develop a series of debates to give the American people a better opportunity to judge which candidate they want to support," he said.
While the DNC is unlikely to exclude all three candidates from future debates, Sanders added that he does not want to commit to an ad hoc schedule of debates set by networks.
"As I have said from day one I want to see debates. I love debates. I think it's good for the Democratic Party, I think it's good for the people of this country, but you've got to do it in a rational way, you just can't do it because some network says this and some network says that," Sanders said. "I would hope that in the very short future we can develop a series of debates, and I think ... Illinois, Ohio, California, New York state are some of the states we might want to be looking at."
On the whole, Sanders said the Democratic party needs to do a better job reaching out to voters outside of the early primary states, as well as younger and working class voters. Sanders said that of the 14,000 people who attended his rally in St. Paul, he guessed that 95 percent of them had never been to a Democratic party meeting.  
"But this is the future of the Democratic Party," he said. "And what I am very proud of in our campaign is that we are bringing this type of energy and youth and dynamism into the political process."
During a Saturday interview with the Washington Post, Sanders went a step further, saying that his campaign has "an excitement and energy that does not exist and will not exist in the Clinton campaign." Sanders also called the Clinton campaign "desperate," and in town halls that day he said her campaign was "nervous."
By Sunday, however, Sanders emphasized his 25-year relationship with Clinton, calling her a friend he respects. Asked about the shifts in tone, Sanders said he thinks he is still running the kind of positive, attack-free campaign he promised and is proud of the campaign he is running.
"Obviously what a campaign is about is differences of issues, differences of points of view. And we have differences of points of view—very different positions on important issues," he said. "And I intend to articulate those issues, that's what a campaign is about. But I think if you look at the way we have tried to run this campaign, it has not been one of personal attacks, it has not been one of mudslinging."
Before it's here, it's on the Bloomberg Terminal.
LEARN MORE