Core Issues
Clinton and Sanders Address Voter Skepticism at Iowa Democratic Forum
The audience at CNN's event gave voice to the issues that have dogged the leading candidates during the 2016 presidential campaign.
by and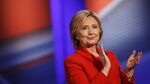 Hoping to persuade undecided Democrats with just a week until the Iowa caucuses, Hillary Clinton and Bernie Sanders took on some of the questions that have most dogged their candidacies, from trustworthiness and e-mails to feasibility and socialism.
Clinton sought to quell concerns about her honesty and judgment, while Sanders aimed to tell voters that his ambitious proposals are actually workable as they and former Maryland Governor Martin O'Malley took the stage separately at Drake University in Des Moines for their final group appearance before Iowans go to their caucus sites on the night of Feb. 1. By and large, the two leading candidates performed strongly, parrying their stump speeches into forceful answers for the Hawkeye State and beyond.
A young man who said he was leaning toward Sanders told Clinton that "a lot of people my age think you're dishonest." As he spoke, the Democratic front-runner's face turned tense, and she responded by suggesting that young voters may not have been paying attention long enough.
"You know, look, I've been around a long time. People have thrown all kinds of things at me. And you know I can't keep up with it. I just keep going forward," Clinton said.
"But if you're new to politics, if it's the first time you really paid attention, you go, 'Oh my gosh, look at all of this.' And you have to say to yourself, why are they throwing all of that?" Her answer, in short: "I've taken on the status quo time and time again."
Responding to a question from forum moderator Chris Cuomo about the Des Moines Register's assertion in its Saturday endorsement editorial that she still struggles to acknowledge her mistakes, Clinton showed that she does. Asked if she'd been too slow to concede that she'd made a mistake in relying on a private e-mail server and whether it points to a bigger weakness, Clinton was firm. "I'm not willing to say it was an error in judgment because nothing that I did was wrong. It was not in any way prohibited," she said, repeating an answer she's given for months, though not with much frequency recently. Cuomo pushed her again on the timing of her apology and she was reluctant to give up much ground other than the timing of her mea culpa.
"Well, apologizing sooner, as soon as you can," she said. "But part of the problem, and I would just say this as not an excuse but just as an explanation: When you're facing something like that you got to get the facts. And it takes time to get the facts."

The questions for Sanders centered around the practicality of his agenda and on just how radical he actually is.
A Drake law student told Sanders that while he thinks "you've introduced a lot of programs that could help a lot of people," he wanted to know "realistically, how do we fund those programs?"
Sanders reiterated his plans "to say to profitable corporations who, in some years don't pay a nickel in taxes, to the wealthiest people in this country who sometimes have an effective tax rate lower than truck drivers or nurses, yes, you are going to start paying your fair share of taxes."
But he also conceded that it wouldn't be just the rich facing higher tax bills, since his "Medicare for All" proposal would result in new taxes. "Yes, we will raise taxes, yes, we will," he said. While taxes will go up, Sanders explained, working-class Americans would save in the long term since they would no longer be paying health insurance premiums.
Asked how he would enact his agenda, Sanders pointed briefly to his collaboration with Republicans in Congress, including Senator John McCain and Representative Jeff Miller, but leaned on an answer he's given throughout his campaign: that the only way to affect real change is by voting out the vast majority of members of Congress.
"The real way to do it is to have millions of Americans finally stand up and say, enough is enough, for people to get engaged in the political process, to finally demand that Washington represent all of us, not just a handful of very wealthy people," he said.
As with Clinton, it was not all smooth sailing for Sanders.
Defining "democratic socialism," he sputtered a bit. 
"Democratic socialism means, to me ... economic rights, the right to economic security ... should exist in the United States of America," he said. "What this campaign is about, and what I believe, is creating a government that works for all of us, not just a handful of people on the top. That's my definition of democratic socialism."
O'Malley, who trails his rivals by significant margins both in Iowa and nationally and badly needed the airtime that the CNN forum afforded him, was asked about his zero-tolerance policing policy as the one-time mayor of crime-blighted Baltimore. 
"In 1999, our city of Baltimore had become the most violent, the most addicted, the most abandoned city in America," O'Malley said. "We were burying over 300 young, poor, black men every single year. And yes, black lives matter."
Before it's here, it's on the Bloomberg Terminal.
LEARN MORE