Sentences for Young Murderers Limited by U.S. Supreme Court
Greg Stohr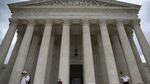 The U.S. Supreme Court gave retroactive effect to a 2012 ruling that banned automatic life-without-parole sentences for juvenile murderers, in a decision that may apply to hundreds of inmates.
The 6-3 ruling came in the case of Henry Montgomery, a Louisiana man still in prison for killing a sheriff's deputy as a 17-year-old in 1963. Montgomery and other convicted murderers now will either become eligible for parole or gain the right to a new sentencing hearing.
"Prisoners like Montgomery must be given the opportunity to show their crime did not reflect irreparable corruption," Justice Anthony Kennedy wrote for the majority. "And if it did not, their hope for some years of life outside prison walls must be restored."
The Supreme Court generally doesn't apply its criminal rulings retroactively. The court makes exceptions when it either substantively changes the criminal law -- for example, by banning particular types of sentences -- or issues a procedural ruling that is especially important.
Louisiana argued that the 2012 Miller v. Alabama ruling wasn't significant enough to apply to old cases.
The 5-4 Miller ruling said states violate the constitutional ban on cruel and unusual punishment when they don't allow the option of a shorter sentence for juvenile murderers. The opinion said juveniles often are less culpable than adults who commit similar crimes because their brains aren't fully developed.
Mandatory Sentencing
The Miller ruling affected mandatory sentencing laws in more than two dozen states, plus the federal government. Some states' highest courts then said it would apply retroactively.
Louisiana was one of seven states where courts have explicitly said the opposite, according to the Sentencing Project, a group that advocates reduced reliance on incarceration.
Kennedy said the Miller ruling warranted re-opening past cases because it dealt with a substantive constitutional right.
"Miller's conclusion that the sentence of life without parole is disproportionate for the vast majority of juvenile offenders raises a grave risk that many are being held in violation of the Constitution," Kennedy wrote.
Kennedy said those states won't have to provide new sentencing hearings and instead can just permit all juvenile homicide offenders to be considered for parole.
'Devious Way'
Justices Antonin Scalia, Clarence Thomas and Samuel Alito dissented. Writing for the group, Scalia called the ruling "just a devious way of eliminating life without parole for juvenile offenders."
The majority included Chief Justice John Roberts, who had dissented from the 2012 ruling.
Montgomery shot and killed Charles Hurt in East Baton Rouge, Louisiana. He was originally sentenced to death, but the Louisiana Supreme Court set aside that conviction, saying that Montgomery, a black youth accused of killing a white man, didn't get a fair trial amid a racially charged atmosphere.
He was re-tried in 1969, convicted and sentenced to life without the possibility of parole.
The Obama administration backed Montgomery in the case.
Juvenile sentencing has been an area of concern for the nation's highest court over the past decade. In 2005, the court outlawed the death penalty for juveniles, saying their lack of maturity made them "categorically less culpable than the average criminal."
In 2010, the court extended that reasoning to bar life-without-parole sentences for youths convicted of a crime other than murder.
The case is Montgomery v. Louisiana, 14-280.
Before it's here, it's on the Bloomberg Terminal.
LEARN MORE