Race for Iowa
Clinton Refrains From Attacking Sanders. He Doesn't Reciprocate.
by and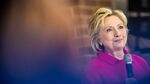 Democratic presidential candidates Hillary Clinton and Bernie Sanders both returned to Iowa for their penultimate visits before the Feb. 1 caucuses and as has been recently seen, Sanders took the hard interpersonal line, while Clinton tread softly.
Sanders offered a blistering critique of Clinton, saying that he and his supporters have made her "nervous," just as Barack Obama did eight years ago. Clinton, meanwhile, approached Sanders respectfully, referring to him as an "esteemed opponent" and limiting her critique of him to a handful of broad policy points.
"We are drawing contrasts and I think that's appropriate. We need a spirited debate so that all of you can make up your minds," she said at a town hall in Clinton, in the northeast corner of the state, after limiting her most aggressive rhetoric to discussion of unnamed Republican candidates.
During a midday visit to his campaign office in Davenport, Sanders noted that Blackstone Group chief executive officer Stephen Schwarzman said this week in Davos that Sanders' rise has scared the markets. "It appears that we have Wall Street a little bit nervous. And that's a good thing," he said.
But it doesn't end there. "We got the entire political establishment heading to Iowa this week. And it seems to me that some of my friends in the political establishment are afraid," he continued. "They are afraid that we can revitalize the Democratic Party, bring in millions of young people and working-class people, but that's not something that anybody in this room is nervous about. That is exactly what we want."
The nervousness is playing out in Clinton's attacks, he said, even as the candidate herself has backed away from a more aggressive approach.
"We get attacked about five times a day, but it really reminds me very much of what happened here in Iowa eight years ago," he told a crowd of 700 that gathered in a low-ceilinged basement on the other side of the town of Clinton not long after his opponent spoke. "Eight years ago, Obama was being attacked for everything: he was unrealistic, his ideas were pie-in-the-sky, he did not have the experience that was needed." Iowans, he added, will see through her attacks this year, just as they did in 2008.
While Clinton and her allies insist that Sanders is unelectable, Sanders said that's because of the caricature they're creating and not what polls suggest. "One of the myths that is being perpetrated by the Clinton campaign is, well, you know, Bernie Sanders is a nice guy, he combs his hair beautifully, GQ kind of guy," he joked. "But despite all of those fantastic attributes, he just can't win, he can't defeat the Republican candidates in November." That's wrong, he said, citing a Jan. 17 NBC/Wall Street Journal national poll that found Clinton leading Republican front-runner Donald Trump by 10 percentage points while he leads Trump by 15. 
Clinton has in recent weeks leveled some of the same criticisms against Sanders that she used to describe Obama ahead of the 2008 elections. She has said that both believed they could achieve their agendas as president by waving a "magic wand." Moreover, she's given a few particularly aggressive speeches, including one Thursday in Indianola, in which she relied on a teleprompter to deliver a firmly scathing attack that was filmed by her campaign's ad production team. 
But it was a softer Clinton on the podium for all three of her events Saturday in eastern Iowa, one who spoke only broadly about her differences with her opponents on health care and regulating Wall Street. Offstage, though, her aides remained ready to attack Sanders. Jennifer Palmieri, Clinton's communications director, reacted once again to Sander's comments earlier in the week that appeared to disparage Planned Parenthood and the Human Rights Campaign for choosing to endorse Clinton. 
"These women and men are on the front lines, fighting for the rights of gay and lesbian Americans, fighting for reproductive freedom and workers rights, working to end gun violence," Palmieri said in a statement to Bloomberg Politics. "They are under vicious assault from Republicans, conservative courts and corporations every day. We should back them and the millions of people they represent, not subject them to cynical and disingenuous political attacks. Hillary Clinton has fought in the trenches alongside these people for decades and will have their back every day as president."
On the sidelines of a dinner in Davenport hosted by the Scott County Democratic Party, Sanders campaign manager Jeff Weaver spoke briefly to Clinton vice chair Huma Abedin. Afterwards, he declined reporters' requests for him to recap their conversation. But he said he continues to see the opposing campaign's approach to the race as a sign it's on edge.
"I think they are getting nervous. The polls show Bernie's up. They're getting nervous," he said. 
Before it's here, it's on the Bloomberg Terminal.
LEARN MORE