Marco Rubio: Oregon Occupiers Should Be Prosecuted
But don't treat them like an "invading army," the Republican presidential candidate says.
by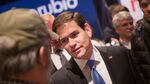 Republican presidential candidate Marco Rubio said Friday that people "should be prosecuted" in the three-week stand-off at Oregon wildlife refuge, but said the federal government should not resort to violence against the group of armed men occupying the area.
"We're not going to treat them like an invading army from a foreign country," Rubio, a U.S. senator from Florida, told a crowd at a town hall in Merrimack, New Hampshire, after an audience member asked him how he would handle the occupiers, led by Ammon Bundy, whose father, Cliven Bundy, held a similar standoff in Nevada two years ago. 
The younger Bundy's group began its occupation at the Malheur Wildlife Refuge on Jan. 2 over what it views as federal overreach in land-use policies for local ranchers. The state's Democratic governor, Kate Brown, said today the standoff has cost the state $500,000 so far, the Associated Press reported. Brown has called for a more aggressive federal response.
"They should be prosecuted," said Rubio of the occupiers, but he added that the federal government should avoid violence, and appeared to express some sympathy with the group's protest. The federal government owns too much land, said Rubio, who vowed to seek to return some of it to private ownership if he's elected president.
"That being said, you can't be lawless," he said of the Oregon protesters. "We live in a Republic. That's why we have an election in 2016."
Before it's here, it's on the Bloomberg Terminal.
LEARN MORE