Family Values
Barbara Bush Takes On New Campaign Role: Offensive Tackle
by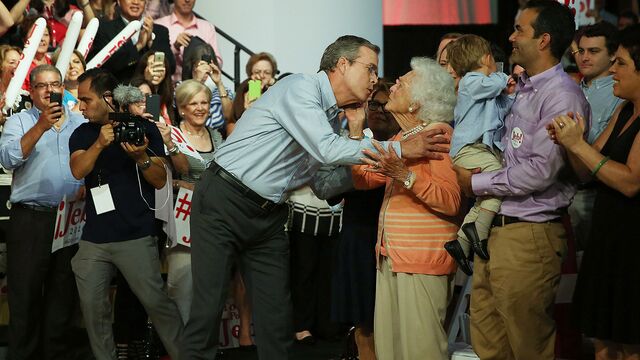 Don't mess with Barbara Bush, matriarch of a political dynasty and campaign surrogate. At least that's the message her latest son to run for president, Jeb, is sending to one of his rivals
"I'd be careful Donald," Bush tweeted Friday night, next to a picture of the game-ready former first lady in eyeblack and shoulder pads in a locker room, a shot at frontrunner Donald Trump.
That comic post went up two hours after Trump's tweet mocking Jeb for leaning on his "mommy" for help. "Mom can't help you with ISIS, the Chinese or with Putin," Trump tweeted. 
Trump's reference was to a just-released video in which Barbara Bush delivers a testimonial to her son. While the former first lady didn't mention Trump by name, she made a clear and pointed reference: "When push comes to shove, people are going to realize Jeb has real solutions rather than talking about how popular they are or how great they are," she says in the 30-second spot. "I think he'd be a great president."
The social media war highlighted highlighted the bigger battle within the Republican Party as the political establishment grapples with Trump's continued lead in the race.
That issue took center stage Saturday during the New Hampshire Republican Party's First In The Nation Town Hall. With Trump and Ted Cruz, his chief rival for the anti-establishment lane in the Republican presidential contest, steering clear of the event in a Nashua hotel ballroom, Bush, U.S. Senator Marco Rubio and Ohio Governor John Kasich pitched the crowd on why the party needs a candidate with experience in governing.
"We have a front-running candidate for president of the United States in our party right now who is not a conservative -- he is a gifted entertainer," Bush told the crowd gathered on a cold New Hampshire morning. "You all have this incredible opportunity. Maybe you consider it a responsibility; maybe it's a burden to you. You have the responsibility of reshaping this race in my mind."
Kasich, who has moved into second place behind Trump in some New Hampshire polls, stuck to his hopeful script. He joked about his 75 New Hampshire town hall meetings during his half-hour slot, and made a case that the problems facing the country are imminently solvable. Rubio, the senator from Bush's home state of Florida, pitched himself as the candidate best situated to reverse a "broken foreign policy" and mend a sluggish economy under President Barack Obama.
Former Pennsylvania Senator Rick Santorum also spoke, highlighting his appearance in an Islamic State magazine as proof he's the most-feared candidate. Kentucky Senator Rand Paul pushed criminal justice reform and the dangers of the national debt.
Trump, the billionaire businessman, continues to lead the crowded field with 34.5 percent of Republicans naming him as their guy, according to the RealClearPolitics average of recent polls. Trump and Bush have locked into an increasingly personal squabble just before the first votes are case in the Feb. 1 caucuses in Iowa and first-in-the-nation primary on Feb. 9 in New Hampshire. Trump set the war off early in the primary campaign by calling Bush a nice but "low-energy" hopeful. Bush, in turn, has called Trump a "jerk" with a propensity for alienating virtually everyone.
Bush called out Trump by name on Saturday, accusing him of saying "the craziest things" that foment resentment and uncertainty worldwide.
Trump's insulting comments about women and Hispanics, as well as his disparagement in July of U.S. Senator John McCain's time as a prisoner of war in Vietnam, are signs of weakness, not strength, Bush said. 
Bush's social media spat with Trump also underscores his often oscillating attitudes towards his legacy as a member of one of the nation's best-known political dynasties. His brother, George W. Bush, and father, George H.W. Bush, both occupied the White House. His grandfather, Prescott Bush, represented Connecticut in the U.S. Senate. In May, as the crowded field began taking shape, Bush said he had no plans to run from his family name, even as he asserted "I'm my own man." "I'm not going to be in the witness protection program. I'm a Bush and I'm proud of it."
The decision to draft his famously tough mother into the campaign caps a gradual stepping up of the clan's role. Barbara Bush, 90, is famously outspoken on behalf of her politically active kin: In 1984, after her husband George H.W. Bush faced Geraldine Ferraro in a vice presidential debate, she quipped that she wanted to call the first woman on a presidential ticket "a word that rhymes with rich." As the wife and mother of former presidents, she carries weight with the Republican electorate yet is seen as free of political baggage.
Before it's here, it's on the Bloomberg Terminal.
LEARN MORE