Legacy Issues
Jeb Bush Enlists Family to Help Steady Campaign
by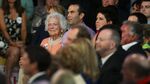 Former first lady Barbara Bush will star in a new ad on behalf of her son's Republican presidential campaign, former Florida Governor Jeb Bush said on Thursday.
Bush also said he was "sure" that he'd campaign with his brother, former President George W. Bush, something that hasn't happened yet since the former governor launched his bid last year to become the third Bush elected president.
"I'm sure my brother is going to be campaigning by my side," Bush said at Hampton Academy in Hampton, New Hampshire. Specific details haven't been decided, Bush told reporters after the event.
The TV spot, which will be released online Friday, features Barbara Bush talking about her love for her son, vouching for his leadership skills, and telling voters they can trust him, said Tim Miller, a Bush campaign spokesman. The candidate, who has grappled with how to utilize his family on the campaign trail, argued Thursday that his mother was a powerful surrogate. 
"If there's anybody more powerful in my family than my mother, I don't know who it is," Bush said.
Bush joked with reporters that it was "good to get an endorsement from your mother."
"I don't think she was prepared to endorse anyone else," Bush said.
The polling regarding former President Bush makes for complicated politics for his brother, who has vowed to run a primary campaign that wouldn't damage his viability in a general election race.
"You can't ignore them, because that's weird," Bush said about his family during the town hall meeting. "And you can't over-rely on them, either. There's a balance."
A Bloomberg Politics national poll taken in November shows that the popularity of the former president remains underwater with the public at large: 45 percent had a favorable view of the older Bush, compared to 50 percent who viewed him unfavorably. But when only Republicans are asked, the picture is starkly different: 77 percent of members of his own party give the former president a favorable rating, making him the most popular Republican in the survey.
"There are people who think it's a little odd for a third Bush to be president of the United States," Bush said in New Hampshire. "The expectations on me are higher because of that. Fine. You know who has higher expectations than the conventional wisdom? Me. I have higher expectations on myself because I have some experience in knowing this is a really important job."
Before it's here, it's on the Bloomberg Terminal.
LEARN MORE