Race for the White House
Hillary Clinton Cools the Bernie Sanders Critiques in New Hampshire
After bashing her rival in Iowa, the Democratic presidential candidate takes a different tone in his backyard.
by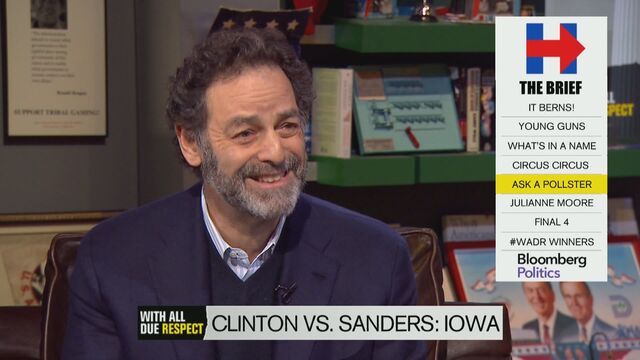 One day after lighting into her chief rival for the Democratic presidential nomination in Iowa, Hillary Clinton conspicuously avoided mentioning Bernie Sanders during an hour-long town hall meeting Friday in a Rochester, New Hampshire, opera house. 
Although she made a tacit case against him by saying the U.S. can't afford to undo gains made under Obamacare (something Clinton has warned Sanders' plan for a "Medicare for all" system would do), Clinton avoided mentioning the name of the senator from neighboring Vermont, something she was not shy about doing in Iowa.
"Senator Sanders and I share many of the same goals, but we have different records and different ideas about how to drive progress," Clinton said during a tour of Iowa college campuses, where she painted Sanders as too impractical to be president. 
Also conspicuously absent: The stinging tone of her critiques which accused Sanders of espousing a string of unachievable goals in foreign policy and health care. 
Clinton was delivering her Friday remarks in a state where Sanders is well known as a long time lawmaker from neighboring Vermont. Polls in New Hampshire have consistently shown him leading Clinton in the state that will hold the first primary of the presidential campaign on Feb. 9.
For Sandra Rodeffer of Durham, New Hampshire, who described herself as a "60-year-old sister" in feminism, the restraint was just fine. She doesn't think the decision was due to geography.
"I think it would be counterproductive for her to go negative," she said. "Women really don't value attacks. That turns them off. Hillary was wise not to go after Bernie."
Clinton pitched her case for growing the nation's economy, closing the income gap and lowering drug prices. She pitched her healthcare bona fides. She said she supports Obamacare and wants to expand coverage to 100 percent of Americans, though she never mentioned the term "single-payer" or the Medicaid-for-all system espoused by Sanders.
"We really don't want to go back to a contentious national debate over healthcare," she told a crowd that stretched around the historic wood and brick Rochester Opera House to attend the hour-long session. "That is a recipe for gridlock."
Lower drug prices? Clinton said she'd work on it. Three free doctor visits a year for people? She backs that one. Lower out-of-pocket costs? She said it was essential.
"I believe that we can wage an election on what is achievable, what is smart and what is workable," she said. "If we've got the right presidential candidate, we've got a good shot of taking back the Senate."
Introducing Clinton, Senator Jeanne Shaheen, a Democrat from New Hampshire, highlighted her tenure as a secretary of state and before that in the Senate.
Recalling Clinton's widely-praised performance during a punishing 11 hours of testimony in October by a Republican-led House committee investigating her handling of terrorist attacks in Benghazi, Libya, Shaheen said none of the other presidential contenders could have performed so ably. "Not Donald Trump, not Ted Cruz and not Bernie Sanders," she said.
Before it's here, it's on the Bloomberg Terminal.
LEARN MORE