New York City's Jobs Boom Fuels Revenue Growth for Bill de Blasio
by
Brooklyn led in city employment with a 5.8% increase in 2014

NYC reaped almost $1 billion more than expected in fiscal 2016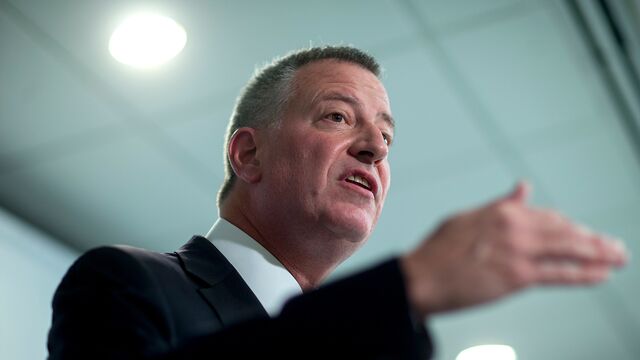 Job growth in New York's boroughs of Brooklyn, Queens, the Bronx and Staten Island has contributed to an economic boom, increasing revenue to pay for more police and homeless services, Mayor Bill de Blasio said as he unveiled his $82 billion budget for fiscal 2017. 
The spending plan, a 0.4 percent increase over the $81.7 billion for the year ending June 30, retains about $5 billion in reserve, the mayor said. In December, 25 members of the City Council had urged de Blasio to require each agency to trim costs by 5 percent, as previous mayors have, to prepare for a downturn. De Blasio said he's considering adopting that plan by May, when the final budget is due.
De Blasio said the job numbers support his assertion that the city's quality of life and economic health have never been better. The statistics also provide evidence that a five-borough economic plan initiated early in the administration of Michael Bloomberg, de Blasio's predecessor, may have produced results. The former mayor is founder and majority owner of Bloomberg News parent Bloomberg LP.
"This budget addresses the needs of New Yorkers through targeted investments," de Blasio said during a City Hall news briefing. "It protects our fiscal health for the future through reserves that will help insulate us against uncertainty."
Brooklyn led the jobs growth with a 5.8 percent increase in 2014, the most recent year available, followed by Queens with 3.9 percent, the Bronx with 3.4 percent and Staten Island, 2.9 percent. Manhattan, where most people work, had an increase of 2.6 percent, or 63,000 jobs, de Blasio said, citing state Labor Department statistics.
The city added 213,000 jobs in 2014 and 2015, the highest two-year gain ever, raising its total to 4.2 million employed, de Blasio said.
The city reaped almost $1 billion more revenue this fiscal year than administration budget analysts predicted as recently as November, de Blasio said. His plan added $640 million to his November estimate of next year's revenue, providing $59.9 billion in total, excluding state and federal aid.
The mayor said he's mindful of the risks to the economy. "There's a lot to be concerned about," he said. "We have to protect against future dangers while continuing to make investments to build the economy. It's a delicate balance."
Pension costs will increase about $600 million a year, boosting expenses to $10.1 billion in 2020 from $9.3 billion this year, partly because of longer life expectancy and also because the stock market and other investments earned less than anticipated, de Blasio said. There's also an increased payroll, including 1,300 more police officers.
De Blasio has committed the city to a $15 minimum wage to its workers and contractors in adult and child services at a cost of $115 million next year. The jail at Rikers Island will get a $100 million increase for anti-violence initiatives and staff training. A program to protect pedestrians and motorists will add $130 million. Another effort to identify and treat dangerous mentally ill patients will add $17.4 million.
De Blasio also has invested several billion dollars over the next 10 years on more services for the homeless, including plans for 15,000 units of supportive housing. He has set a goal of preserving or creating 200,000 units of affordable housing by 2025.
The spending plan predicts a $2.3 billion deficit in its forecast for fiscal 2018, when expenses will be $85.6 billion.
Before it's here, it's on the Bloomberg Terminal.
LEARN MORE