Longshot Corporate Tax Plan May Be Aided by Portman's Tough Race
by
Ohio Republican Portman running with Senate control at stake

Lawmaker seeks to curb inversions, cut tax on overseas profits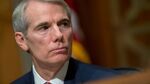 A long-shot bid to cut taxes this year on U.S. companies' overseas profits may depend heavily on how much Republicans want to help the re-election bid of one endangered senator, Rob Portman of Ohio.
Portman, a Republican running in a state that backed President Barack Obama in the last two presidential elections, made a pitch to party members last week at a retreat in Baltimore that they shouldn't punt the international tax issue to the next president.
"It's so important to us, keeping jobs and investment in this country," Portman said in an interview this week. In addition to getting companies to repatriate trillions of dollars in corporate profits piling up overseas, he and other lawmakers want to curb corporate inversions that have major companies such as Pfizer Inc. heading for lower-tax countries. "We've got to deal with it. It's urgent," he said.
But while Portman is pushing for a deal, and top tax writers and the Obama administration are also talking up the possibility, a number of pitfalls will make a deal hard to reach before the election.
The most obvious is the opposition of Senate Majority Leader Mitch McConnell. The Kentucky Republican prefers a broad tax overhaul instead of dealing with international taxes separately. He also opposes a tax plan that would generate new revenue for more government spending, as sought by Democrats and the White House.
Thus far, Obama has offered "either something that helps only corporations and not small businesses, or adds a trillion to the federal government," McConnell spokesman Don Stewart said. "Neither of those things is of particular interest to us."
Obama's Budget
A senior administration official said last week that Obama's budget in February will again propose using a short-term windfall from an international tax deal to boost highway and infrastructure spending. The official said the administration is working closely with Democratic Senator Chuck Schumer of New York, who negotiated with Portman and then-House Ways and Means Chairman Paul Ryan last year in what ended up as an unsuccessful effort.
Former Representative Dave Camp -- a Michigan Republican who proposed a comprehensive tax overhaul plan during his four years as Ways and Means chairman -- agrees that the tax code makes U.S. companies ripe takeover targets for foreign competitors.
"A lot of people running these companies have a fiduciary responsibility to maximize returns, and they're just really ripe takeover targets from foreign acquisition the way our tax code is set up now," Camp said in an interview to air on Bloomberg Television's "With All Due Respect."
But he also said he sees trouble ahead for the piecemeal approach.
"I do think it's a challenge to try to address international reform only," Camp said. "To reform international companies, some of the largest companies in America, and not do something for families and small business, I think is politically a very challenging place to be."
While there's no prospect of enacting a comprehensive tax plan in a presidential election year, Portman said a punt wouldn't necessarily put the issue off only until 2017.
Two, Three Years
"I think it's waiting at least two years, maybe three," Portman said. "I mean, how long is it going to take a new Congress and a new president to put their arms around this? It's a critical issue."
"I'm for broader tax reform, absolutely, it needs to happen. But with this president and with this Congress, we know what's doable to stop the hemorrhaging," Portman said, referring to a proposal he put together last year with Schumer, the heir apparent to Senate Democratic Leader Harry Reid of Nevada, who isn't seeking re-election.
Portman, a former U.S. budget director and trade representative, has sought action in Congress on international taxes for years. A bipartisan deal to limit the takeover of American companies and bring back overseas profits could aid him in his bellwether Rust Belt state, which has long felt the pain of jobs shipped overseas.
In addition to stemming corporate inversions and takeovers, both parties want to find a way to bring back the massive pool of corporate profits piling up offshore -- north of $2 trillion.
A 35% Tax
Companies don't have to pay the 35 percent U.S. tax on those profits unless they bring them back to the country, so many have decided to park the money overseas indefinitely. Most of the repatriation proceeds should be used to reduce future international taxes and move toward a territorial system, Portman said.
"You have in essence a permanent repatriation going forward. That's really going to help create jobs here because it'll bring back a lot of money that's stuck overseas," he said.
Companies could either invest the repatriated money in their businesses or return it to shareholders to spend or invest elsewhere.
Schumer has already met with Finance Committee Chairman Orrin Hatch, a Utah Republican, about the possibility of doing an international tax bill this year, said a person familiar with the meeting, and Schumer has spoken with House Ways and Means Chairman Kevin Brady of Texas recently on the phone as well.
"I'd like to get it done," Schumer said, but he cautioned that it's too early to say if a deal is in the cards.
Brady-Hatch Meeting
Brady and Hatch said last week that they want to act this year on a tax overhaul that would address inversions; Brady said they would meet this week to start working.
But with a short legislative calendar to deal with, a reluctant McConnell and a contentious presidential backdrop, there may be few opportunities for a breakthrough.
There are no major fiscal cliffs early in the year that lawmakers could use to force action on a tax overhaul. Late last year might have been an easier time to do it, when Congress was negotiating highway funding, a mammoth government spending bill and tax-break extensions. And then there's the question of who will win the election, with control of the Senate at stake.
Portman expressed at least some hope he'll be able to win over McConnell.
"I think he understands the significance of the problem -- that if we don't act, we're going to keep losing more U.S. companies, more jobs, more investment," he said.
Before it's here, it's on the Bloomberg Terminal.
LEARN MORE