Senate Vote Forces Democrats to Pick Between Obama and Campaigns
by
Bill would increase scrutiny of Iraqi and Syrian refugees

White House officials have threatened to veto measure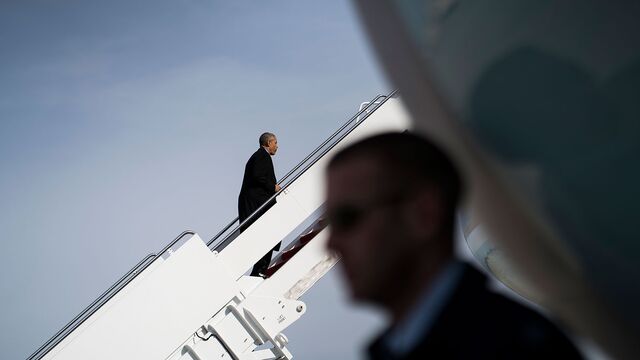 Senate Republicans are forcing Democrats to decide whether to support a bill that would effectively scuttle Obama administration plans to admit thousands of Syrian refugees to the U.S. or risk subjecting the party to being labeled as soft on terrorism in an election year.
Majority Leader Mitch McConnell, a Kentucky Republican, set a procedural vote for Wednesday on H.R. 4038, which would require U.S. officials from three separate agencies to certify to Congress that each individual refugee from Syria or Iraq doesn't pose a security threat. The measure easily passed the House in November on a 289-137 vote, with 47 Democrats in support, enough to override the Obama administration's threatened veto.
"I understand that the political pressure to oppose this balanced bill may be intense, but it's also intensely short-sighted and I urge our Democratic friends to resist it," McConnell said on the Senate floor Wednesday.
Several Democratic opponents contended the bill wasn't a serious legislative proposal.
'Gotcha Politics'
"This is a political vote," Senator Bill Nelson, a Florida Democrat, said in an interview. "That's what is wrong with this place, it is political gotcha politics."
Senator Harry Reid of Nevada, the chamber's Democratic leader, said his party wants to amend the measure to add language denouncing Republican presidential frontrunner Donald Trump's proposal to at least temporarily ban Muslims from entering the United States. He said Democrats also would seek increased funds for local police anti-terror programs and airport screening.
"By advancing this bill Republicans are creating a terrible distraction for the sake of embracing the hateful rhetoric, vitriol, of the Republican Party standardbearers Donald Trump and Ted Cruz," a Texas senator, Reid said on Senate floor Wednesday. "We would offer an amendment to denounce Donald Trump's reprehensible proposal to propose a religious test on admission to the United States."
While the refugees bill may give Democrats their first opportunity to put Senate Republicans on the spot over Trump's plan to temporarily bar Muslims from receiving visas, Republicans could also schedule amendment votes that would make Democrats uncomfortable.
Strongly Opposed
Ben Cardin of Maryland, the top Democrat on the Foreign Relations Committee, said he opposed the bill because it is "conceptually wrong."
"I don't see how you can fix this -- the certification issues are basically to stop refugees from coming to America," Cardin said in an interview Tuesday. "I think the majority of our caucus feels that way. I don't know about our total caucus or if it's enough to stop it from going forward, though."
California's Dianne Feinstein, the top Democrat on the Intelligence Committee, said Tuesday that she also planned to vote to block the bill.
"I think this is not an argument that we need to get into," Feinstein said in an interview. "The kind of rhetoric that goes around is very destructive."
'Open' to Amendments
Others said they were willing to consider the measure if party leaders would agree to amend it.
"We're still open to it," said Jon Tester, a Montana Democrat. "I just think there is some stuff that could be put on it to make it a better bill." He declined to specify the changes he would like to see.
McConnell would need six Senate Democrats to join all 54 Republicans to gain the 60 votes needed to advance the legislation. Sixty-seven votes would be required to override a presidential veto. Aides to Senate Democrats said Tuesday that lawmakers planned to discuss the measure during a caucus lunch scheduled to occur before the Wednesday procedural vote.
If Senate Republicans succeed in advancing the bill, it might harm President Barack Obama's plans to increase the number of Syrian refugees admitted to the U.S. Obama has said he wants the U.S. to admit 10,000 Syrian refugees in the fiscal year that began Oct. 1.
The U.S. is already selective, usually considering for resettlement only refugees deemed "vulnerable," such as widows, unaccompanied children or political enemies of Syrian President Bashar al-Assad's regime. Candidates are interviewed in person at refugee camps bordering Syria. The vetting takes almost two years, on average, officials have said.
Push for Changes
Even so, Republicans say more needs to be done to strengthen scrutiny of people admitted to the country after terrorist attacks in Paris and San Bernardino, California, last year.
"We need to move cautiously in accepting refugees from Iraq and Syria given the attacks in Paris and San Bernardino," Senator Chuck Grassley, the Iowa Republican who leads the Judiciary Committee, said Tuesday on the Senate floor. "We need to fully understand the risks and schemes that these terrorists are using before we open the doors to 10,000 more Syrians."
House Speaker Paul Ryan, a Wisconsin Republican, has said the measure would temporarily block such refugees from entering the U.S. because it would probably take more than six months to put the new security efforts into place.
After the House passed the bill in November, Minority Leader Nancy Pelosi of California said that she was "confident" Democrats would be able to sustain a presidential veto if necessary.
Before it's here, it's on the Bloomberg Terminal.
LEARN MORE