Reality Stars
Sarah Palin Eagerly Enters Campaign Fold With Donald Trump Endorsement
The former Republican vice presidential candidate argued that the billionaire GOP front-runner is "not an elitist."
by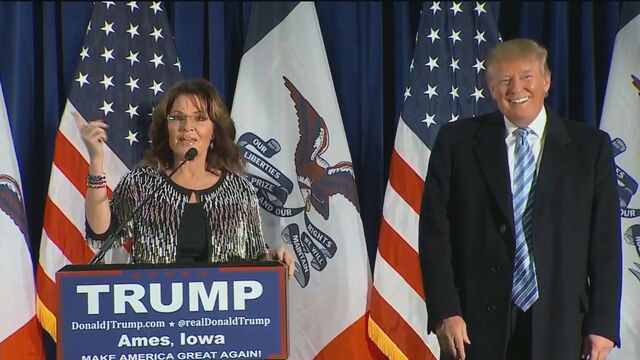 Inside an animal show arena at Iowa State University, the Republican Party's two biggest celebrities joined forces Tuesday evening for a political spectacle certain to further rock the party's establishment and race for the White House.
Billionaire Donald Trump, a television star turned politician, and Sarah Palin, a politician turned television star, expressed their mutual approval during a raucous rally less than two weeks before the Iowa caucuses start nomination balloting.
Palin, the party's 2008 vice presidential nominee and a hero to the Tea Party movement, sought to validate Trump's conservative credentials while also selling him as an everyman, despite his outsized wealth.
"He is beholden to no one, but we the people," she told hundreds—perhaps thousands—who had waited in snow and cold weather to get inside. "He is perfectly positioned to let you make America great again."
Palin said she decided to back Trump "over some friends who are running," including some she'd endorsed in their non-presidential races such as Senator Ted Cruz of Texas, because she believes the businessman has the skills needed now.
"Only one candidate's record of success proves he is the master of the art of the deal," she said. "He is from the private sector. Not a politician. Can I get an alleluia?"
With Trump standing at her side, Palin presented him as a common man who has spent his life around average Americans. "He's not an elitist," she said. "As a multi-billionaire, we still root him on because he roots us on."
Palin and Trump have exchanged compliments as far back as 2011, when both were dabbling with a 2012 presidential run. Palin, for example, defended Trump for saying he wasn't sure that President Barack Obama was born in the U.S.
For his part, Trump said he'd wanted Palin's support since announcing his presidential campaign in June. "From day one, I said if I ever do this, I have to get her support," he said Tuesday. "She feels it. She understands it better than anybody."
Palin also leveraged one of her signature lines in describing Trump. "He's going rogue, left and right, man, that's why he's doing so well," she said to cheers.
Criticizing the "the system" and the "establishment," Palin said "crony capitalists" and the nation's campaign finance system have led the nation down the wrong path. "We need someone new, who has the power and is in the position, to bust up that establishment," she said.
Palin offered as proof that Trump is a threat to the status quo the fact that the GOP establishment is "attacking their own front-runner," something she said Democrats would never do. She also said Republicans need to "stop the self-sabotage" and stop wearing "political correctness sort of like a suicide vest."
As might be expected in a college campus, there was protest in the crowd, including a small group who were removed after chanting "a vote for Trump is a vote for hate."
(
Corrects day in first paragraph.
)
Before it's here, it's on the Bloomberg Terminal.
LEARN MORE