Polling Memo to U.S.: Counting Conservatives Isn't Easy
by and
Weeks before first votes are cast in U.S. Presidential race,

U.K. inquiry raises questions about polling methodology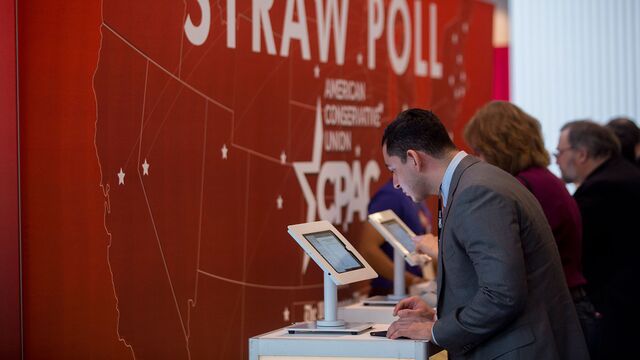 As Iowa voters prepare to kick off voting in the U.S. presidential nominating contests Feb. 1, an inquiry into the failure of Britain's pollsters to predict last year's election result is raising questions about the accuracy of surveys in the race to succeed Barack Obama.
An investigation by the British Polling Council, undertaken in the wake of Prime Minister David Cameron's decisive victory after polling in the U.K. suggested he faced a serious risk of ouster, found that pollsters had difficulty reaching the kind of conservative voters who backed Cameron. 
Rob Hayward, a Conservative U.K. lawmaker who advises his party on electoral strategy, said he identified a group of under-polled voters, who later came to be known as "shy Tories," as far back at 1992. Men who have long commutes to and from white-collar jobs often aren't home in the evenings when polling companies called, and were more likely to be right-leaning in their politics. "These people are inherently conservative whether they're in France or Germany or the U.S.," Hayward said in an interview. "But they are busy and it's likely that the polls are going to have more difficulty reaching them."
J. Ann Selzer, who has done polling for Bloomberg, says that getting the sample right is a challenge for U.S. pollsters too. That was why Republican presidential nominee Mitt Romney was so bitterly disappointed four years ago: His team made the wrong assumptions about how many people Obama would be able to turn out in the election.
Selzer's latest Iowa Poll, commissioned by Bloomberg Politics and the Des Moines Register, the leading newspaper in the state that casts the first ballots of the 2016 presidential race, showed neck-and-neck races between former U.S. Secretary of State Hillary Clinton and U.S. Senator Bernie Sanders of Vermont for the Democratic nomination, and between controversial businessman Donald Trump and U.S. Senator Ted Cruz of Texas for the Republican nod.
High-Profile Flubs
Given so many high-profile pollster flubs across the globe, how confident does Selzer think the public should be in this year's surveys? The Iowa-based pollster has never predicted the caucus outcome incorrectly, but, having followed the U.K. inquiry, she's more savvy than cocky. "We're going to find out in two weeks," she said, when asked about her level of confidence in her results.
Following seven months of analyzing the hundreds of polls published in the run-up to the U.K. election, a panel of academics and opinion experts concluded the fault lay in "sample error" -- the people the companies were speaking to weren't representative of the general population. In particular, they struggled to get apathetic people to answer questions.
"There were too many Labour voters and too few Conservatives in their samples," Patrick Sturgis, a professor of research methodology at Southampton University who chaired the inquiry, said in an interview. "It seems it's likely to be related to having too many politically engaged people."
Shifting Behavior
The British investigation follows a run of polling failures from Israel through Europe to Canada that have called the industry's methods into question as it struggles to adapt to shifting voter behavior in the Internet age.
In the U.K. at least, pollsters need to work harder to reach conservative voters. John Curtice, professor of politics at Strathclyde University, found an interesting pattern while analyzing data for the British Social Attitudes survey, which unlike opinion polls identifies a random sample of people and then goes to great lengths to interview them. The people who responded on the first or second contact attempts were much more likely to support the opposition Labour Party, while those who needed multiple contacts before a successful interview were more likely to be Tories. "Conservative voters are generally rather better off," he said. "If you've got more money to spend on leisure out of the home, you're not necessarily there when the phone rings."
Mobile Phones
And even if you are home, you may not answer your landline any more, according to Joe Twyman, of polling company YouGov. "Across the developed world, people are being bothered more," he said. "The demands on your time are greater. You no longer answer the landline just because it rings. The U.S. elections are an enormous test of polling in a country where mobile phones aren't easily identifiable. It's going to be difficult."
When the U.K. inquiry began, many polling companies described their difficulties in getting certain demographic groups, especially young people, to respond. They cited the increasing unwillingness of the public to answer land-line telephones for fear of sales calls, and the fact that many young people don't have landlines at all. In the U.S., the Pew Research Center said on Jan. 5 it will now be making three-quarters of its calls to mobile phones.
The young people pollsters did find in the U.K. may have been unusually politically engaged, leading to an overestimate of support for the opposition Labour Party within the age group, according to the report.
Podemos Surge
The most recent European example of survey shortcomings came in Spain in December, when pollsters forecast the result of the two traditional parties fairly accurately but struggled to gauge support for two insurgent parties, Podemos and Ciudadanos, both of which were running in their first general election and attracting new voters. The upshot was a four-way split leading to political stalemate that continues to cripple the country.
Greek voters wrong-footed pollsters twice last year, by unequivocally stating 'No' in a referendum in July over whether to accept bailout conditions by the European Commission and the International Monetary Fund, then again in September when they re-elected Syriza leader Alexis Tsipras by a unforeseen margin.
The phenomenon is not confined to Europe. In Israel, polls made it seem that Prime Minister Benjamin Netanyahu was at risk of losing his job in March elections, when in fact he won comfortably. Then in Canada, Justin Trudeau swept into power at the head of a majority Liberal government in October when most polls forecast a minority for his party.
Repeat Attempts
One tactic to ensure a balanced sample is to repeatedly attempt to reach randomly selected survey targets who don't respond on the first attempt. According to Morris, in the U.S. it would be common for a polling company working for a candidate to make five attempts to re-contact. This is supposed to reveal the preferences of harder-to-reach groups. It also costs money.
Sturgis said those paying for polls needed to consider whether they should spend more for better results. "It's a message for the commissioners and reporters of polls as much as the pollsters," he said.
He also had a warning for those hoping for an easy solution. "I don't think it can be fixed in any simple permanent way," he said. "Polls and surveys are inherently prone to error. You can reduce and mitigate the risks, but there will not be a silver bullet which solves these problems for ever more."
Before it's here, it's on the Bloomberg Terminal.
LEARN MORE