Daimler, Mediobanca Line Up to Profit From End of Iran Sanctions
by
Payoff for corporations may be slow to develop, executives say

Young, well-educated population appeals to multinationals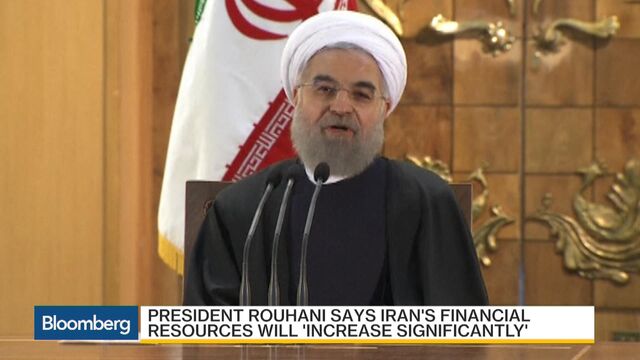 Daimler AG is wasting no time getting back into the Iranian market.
The German automaker announced plans Monday for a joint venture in the country to build Mercedes-Benz trucks after trade restrictions tied to Iran's nuclear program were lifted over the weekend. Similarly, bankers from Italy's Mediobanca SpA, executives at Boeing Co. in the U.S. and senior managers from French automaker PSA Peugeot Citroen have been laying the groundwork to do business in the nation.
More declarations of investment are likely in coming weeks as companies seek to profit from rapprochement with a country that has the world's largest natural gas reserves, a young, well-educated population of almost 80 million people and a $406 billion economy served by a relatively developed road and rail network. Yet for all the optimism, Iran's re-admittance into the world economy may be a slower journey. 
"I would expect European companies to be faster to engage with Iran than their U.S. peers," Daniel Salter, an equity strategist in London at Renaissance Capital, said in an e-mail. "But they will also be cognizant of the risks of sanctions snapping back, so I would expect a gradual process of re-engaging."
Remaining Sanctions

The International Atomic Energy Agency said Saturday that Iran met its commitments under last year's deal with the U.S., China, France, Germany, the U.K. and Russia. Those nations lifted the sanctions tied to the nuclear program.
The U.S. is maintaining significant measures against Iran to punish the country for involvement in terrorism and missile development, and the restrictions tied to the nuclear program can be reimposed if the country violates the agreement.
"Anybody going into Iran needs to have a short-term exit strategy in mind," said Parham Gohari, co-founder of Frontier Partners, which advises multinationals on entering Iran.
Iranian banks also still need to reconnect to SWIFT, the international network that financial institutions use to communicate.
Selling Trucks
Daimler, based in Stuttgart, has signed letters of intent with Iran Khodro Co. for production of trucks and power-trains, and with Dubai-based Mammut Group for distribution of Fuso-brand vehicles. Daimler said it's done business with Iran Khodro for 50 years.
"Right now, there is a huge demand for commercial vehicles, especially trucks," Wolfgang Bernhard, the head of Daimler's commercial-vehicle unit, said in the statement. "We will quickly resume our business activities in the market."
Italian investment bank Mediobanca wants to play a role in the privatization of Iranian state-owned companies and in foreign investments in the country's oil, energy, automotive and financial industries, according to an internal memo confirmed by the bank. The bank signed an agreement in August with the Italian government and Iran's Finance Ministry and central bank to develop trade relations between the countries.
DS Brand
Paris-based Peugeot got about 13 percent of its sales from Iran before suspending them in 2012. The company is in talks with different partners, including Iran Khodro, to create a car-manufacturing joint venture, the company said last week. Iran Khodro built Peugeot vehicles from kits of parts until the French company pulled out, and the partners sold 473,000 units in 2012.
Peugeot last year also signed an agreement with auto retailer Arian Group to sell the French company's upscale DS brand cars in Iran, with a DS store planned for Tehran before the end of the first quarter.
For most U.S. companies, little will change after the deal's implementation gives Iran access to more than $50 billion in cash frozen in overseas accounts and eases restrictions on Western business deals. As well as the sanctions on Iran for its role in terrorism and its missile program, there remains a series of legal, political and security risks that make doing business in Iran a challenge.
There's an exception: Makers of commercial aircraft and parts, such as Boeing, will be allowed to immediately do business. Iran's fleet of airliners is decades old, so Boeing and European rival Airbus SE are likely to reap a windfall.
Necessary Infrastructure
Iran agreed on Saturday to buy 114 Airbus planes, including a mix of new and used jets. The first deliveries are due as early as July, said Abbas Akhoundi, the minister of roads and urban development. Iran is also considering Boeing jets to serve the domestic and long-haul markets, an Iranian official said.
Fatemeh Moghimi, managing director of Sadid Bar International, a transport and trucking company in Tehran, said it's up to Iran to pave the way for money to flow in.
"The necessary infrastructure for foreign investment, which has big potential in Iran, has to be established, developed and in place so that both foreign investors and Iran can fulfill this potential," she said in a telephone interview.
Before it's here, it's on the Bloomberg Terminal.
LEARN MORE