Obama Treads Fine Line With Carrot-and-Stick Approach on Iran
by and
U.S. makes remarkable steps forward in ties with old foe

New sanctions may counter criticism Obama going soft on Iran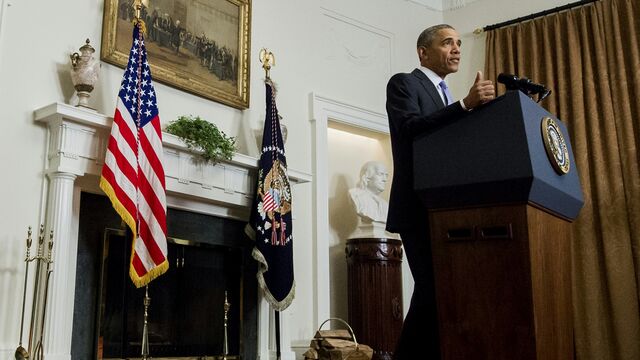 By setting new sanctions on Iran a day after lifting old ones, and by taking pains to knock down any comparison to its restoration of ties with Cuba, the Obama administration is trying to show it will treat its long-time Middle East nemesis with the right level of suspicion.
Less than 24 hours after the implementation of a historic agreement to curb Iran's nuclear weapons program, President Barack Obama on Sunday said five Americans held by Iran had been released in a prisoner exchange. The State Department separately announced an agreement to release Iranian money frozen for more than 35 years.
Yet even as the White House trumpeted the benefits of diplomacy, the Treasury Department imposed new sanctions on 11 companies and individuals for conspiring to acquire materials for Iran's ballistic missile program.
"We are going to remain vigilant," Obama said in a speech from the White House Cabinet Room. "We're not going to waver in the defense of our security or that of our allies and partners."
The policy cross-currents illustrate how fine a line Obama is treading in improving relations with Iran, without appearing too soft. The U.S. severed official ties with Iran in 1980 at a time when the Islamic Republic was holding dozens of U.S. diplomats and private citizens hostage in the U.S. Embassy in Tehran. The hostage drama ended in January 1981, but relations haven't been fully restored.
'Exceptionally Complicated'
"America's relationship with Iran will remain exceptionally complicated," said Brett Bruen, a former official in Obama's National Security Council and now president of the Global Situation Room consulting firm based in Alexandria, Virginia. "Radicals on both sides will continue their efforts to knock the ship off course."
Administration officials said the prisoner swap was not directly linked to, but was made possible by, the nuclear negotiations. The pace of talks picked up after the U.S. and five other nations finished the atomic accord with Iran in July. Similarly, the diplomatic thaw also enabled the quick resolution of a potential showdown last week, when Iran detailed U.S. Navy sailors on two patrol boats that strayed into Iranian waters. The sailors were released within 24 hours.
Billions Unfrozen
Under terms of the agreement ratified on Saturday, Iran will scale back its nuclear facilities and export almost all of its low-enriched uranium in exchange for the lifting of financial and economic sanctions. Iran gains immediate access to about $50 billion in frozen accounts overseas, funds the government says it will use to rebuild industries and infrastructure. It also opens the door to foreign investors who are keen to enter a relatively untapped market of 77 million people.
Obama said the U.S. and its international partners will be "steadfast" in confronting Iran over actions to destabilize the region, as well as threats to Israel, which has been an outspoken opponent of the nuclear deal.
The broader warming trend, and the specific deal to lift sanctions in return for Iran rolling back its nuclear program, have drawn heated criticism from Republicans in Congress, and drew more fire Sunday.
'Endanger U.S. Security'
"This deal is a problematic deal, and it reflects a pattern we have seen in the Obama administration over and over again of negotiating with terrorists, and making deals and trades that endanger U.S. safety and security," Texas Senator Ted Cruz, a Republican presidential contender, said on Fox News Sunday.
He said the agreement to release seven Iranians, six of them dual U.S.-Iranian citizens, who were convicted or awaiting trial in the U.S. would encourage the abduction of Americans. "If you want terrorists out of the jail, capture an American, and President Obama is in the 'let's make a deal' business," Cruz said.
House Speaker Paul Ryan, in a statement on Saturday, said that "a bipartisan majority in the House voted to reject this deal in the first place, and we will continue to do everything possible to prevent a nuclear Iran."
Time-Worn Strategy
A senior administration official, speaking on a conference call with reporters, said negotiations with foreign powers to release Americans held abroad was not a new strategy under Obama. If critics want to say they were in favor of leaving the Americans in prison, they should say so, the official said.
While administration officials highlighted the benefits of improving relations with Iran, they also acknowledged that Obama's efforts could easily be rolled back after he left office -- something various Republican candidates for the White House have suggested they would do.
One official said it's clear that the U.S. isn't formally opening diplomatic relations with Iran, and that the situation is not analogous to Cuba. The U.S. reopened its embassy in Havana in August after more than 54 years, in a step that marked a thaw in U.S.-Cuba relations. Cuba has also reopened its embassy in Washington.
Of the Iranians, three were charged in April with illegally exporting technology to Iran in violation of U.S. sanctions. A fourth was sentenced in 2013 for money laundering and conspiring to illegally provide satellite services to Iran. None was associated with terrorism-related offenses or violent crimes, according to the administration.
Strait of Hormuz
The announcement of newly sanctioned companies and individuals follows accusations that Iran tested a rocket in December near U.S. warships and commercial traffic passing through the Strait of Hormuz. Iranian officials have denied the claim.
Iran is banned under a 2010 United Nations Security Council resolution from "any activity related to ballistic missiles capable of delivering nuclear weapons, including launches."
The agreement on frozen assets reached on Sunday centered on $400 million Iran had placed in a trust before the 1979 Islamic Revolution for the purchase of arms from the U.S. The State Department said the U.S. would release the $400 million, plus "a roughly $1.3 billion compromise on the interest."
Before it's here, it's on the Bloomberg Terminal.
LEARN MORE