Race for the White House
Clinton, Sanders Spar on Guns, Health Care Ahead of Charleston Debate
The rivals took shots at each other on the political talk shows ahead of Sunday's Democratic presidential debate.
by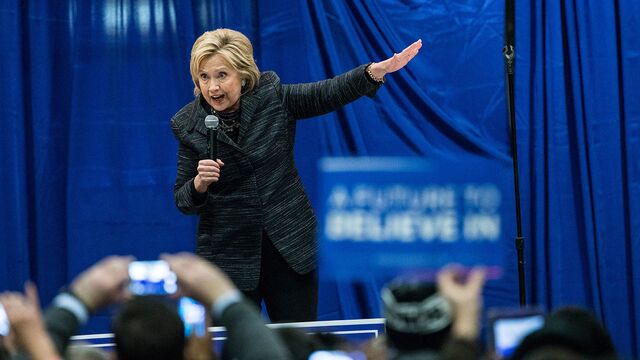 Hours before Sunday's Democratic debate, Hillary Clinton and Bernie Sanders held a warm-up bout of sorts in multiple separate appearances on political talk shows, at a time when the polling gap between the pair has narrowed in early-voting states.
The two top Democratic contenders will be joined at 9 p.m. ET by Martin O'Malley, the former governor of Maryland in distant third place in the party's race to succeed President Barack Obama.
The debate's being held in Charleston, South Carolina, a city where where nine African-American worshipers were shot dead in a church last June. For that reason and others, gun control is likely to take center stage.
Clinton said she was "pleased" that Sanders had shifted his position—or in her words, "flip-flopped"—on his support for a bill giving legal immunity to gun-makers and gun-sellers. 
Speaking on CBS's "Face The Nation," the former secretary of state said she hopes the Sanders "will also join members of Congress to change what's called the Charleston loophole." That provision, which the alleged shooter in Charleston used to get a weapon, allows the sale of a gun even if a background check isn't complete after three days. 
Vermont Senator Sanders, who announced Saturday he would support a bill repealing immunity for gun-makers and sellers, would only say on ABC's "This Week" that he "going to take a look at" the background check loophole.  
Sanders also noted his D-minus rating from the National Rifle Association, and, on NBC's "Meet the Press," said he voted for the immunity provision in 2005 because the larger bill banned armor-piercing bullets. 
Clinton and Sanders also lobbed attacks at one another over health care, even as a new NBC News/Wall Street Journal poll released on Sunday showed Clinton with a 25-point polling lead nationally. Clinton has been leading Sanders in most surveys for Iowa but trailing in New Hampshire, the first two states to have nominating contests. 
Clinton said Sanders' desire to institute what she termed "Medicare for all" would lead to a contentious fight with Republicans, and imperil enrollment gains from Obamacare, the president's signature health care law. Sanders countered that the Clinton campaign wasn't being forthright about the specifics of his plan.
It was "nonsense" for anyone associated with the Clinton camp to suggest that "Bernie is going to dismember healthcare in the United States of America," Sanders said on "This Week." He added that he would release a plan on how to pay for the measure before the Iowa caucuses, which will take place Feb. 1, and maintained it would save middle class people money.
Before it's here, it's on the Bloomberg Terminal.
LEARN MORE