Trump Says Cruz Is No 'Nice Guy' After Clash on New York Values
by
`I think his hit on New York was disgraceful,' Trump says

Republican rivals sparred during debate in South Carolina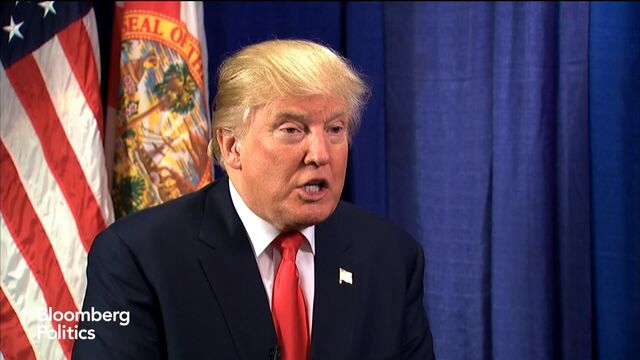 Republican presidential contender Donald Trump -- who is fond of calling his competitors "nice guys" -- says that title no longer applies to his chief rival, Texas Senator Ted Cruz.
"He came at me last night. It was inappropriate and I hit him very hard," Trump said Friday on MSNBC's Morning Joe program. "I don't know that he's a nice guy. I think he hurt himself."
Trump is ratcheting up his criticism of Cruz as the two vie for the top slot in the Feb. 1 Iowa caucuses. Cruz and Trump sparred during Thursday's Republican debate in South Carolina, with the Texas senator saying the real-estate mogul had "New York values" that were inconsistent with Republican values. Trump hit back by saying Cruz had insulted the city of New York and its resilience after the Sept. 11, 2001 terrorist attacks.
"I think his hit on New York was disgraceful," Trump said Friday.
Cruz's comment about New York drew support for Trump from unlikely quarters, including Democrats such as the state's governor, Andrew Cuomo, and New York City Mayor Bill de Blasio, who suggested Cruz was hypocritical in light of recent news that he failed to properly disclose a loan from Goldman Sachs used in his 2012 Senate bid.
The hashtag #NewYorkValues was one of the most oft-repeated on Twitter Friday. Even presidential contender Hillary Clinton, who's had some harsh exchanges with Trump recently, tweeted, "Just this once, Trump's right: New Yorkers value hard work, diversity, tolerance, resilience, and building better lives for our families."
Bromance Over
Trump and Cruz operated under what amounted to a truce for much of the campaign last year, refusing to attack one another and even appearing together at a Washington rally in September. At an August press conference previewing the rally, Trump called Cruz "a friend of mine and a good guy."
As recently as Wednesday, Trump had called Cruz a "nice guy" whom he hoped would address questions surrounding a Goldman Sachs loan he received while running for Senate in 2012.
The lovefest appears to be over, as Trump continues to raise eligibility questions about Cruz's birth in Canada to an American mother and Cruz hits the Republican frontrunner over his past support for Democrats.
During Thursday's debate, Cruz said that while there are "many wonderful men and women" in New York, "the values in New York are socially liberal."
Manhattan Ideology

"Not a lot of conservatives come out of Manhattan," Cruz said.
Trump responded that "the great William F. Buckley" hailed from New York and also highlighted New Yorkers' response to the terrorist attacks in 2001.
"When the World Trade Center came down I saw something that no place on Earth could have handled more beautifully, more humanely," Trump said. "The people in New York fought and fought and fought, and we saw more death, the smell of death."
Cuomo said in a phone interview with CNN that Cruz's comments about the state were "anti-American."
De Blasio tweeted: "Think @tedcruz criticizes #NYvalues when he asks Goldman for massive loans or when he comes here to gobble up cash?"
Before it's here, it's on the Bloomberg Terminal.
LEARN MORE