Fight Night
Trump Bolsters Closing Argument With Most Solid Debate Yet
He's not just survived six debates in a series that began way back in August, but started to shine.
by and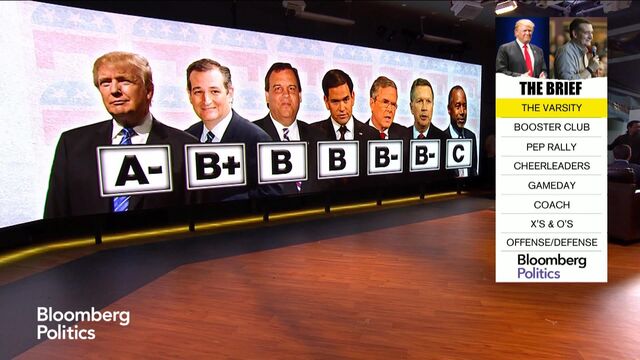 The candidate who faced doubts for months over the true strength of his commanding poll numbers is proving doubters wrong on another count: With about two weeks until the presidential nominating process starts in Iowa, Donald Trump just delivered his most complete performance of the Republican primary season.
Instead of melting under the bright lights of the debate stage, as many Republicans predicted when the former reality TV show host first rose to the top of the polls, Trump has not just survived six debates in a series that began way back in August, but started to shine. On Thursday, the billionaire added substance to his trademark charisma to defend his own attacks on China, embrace criticism that he's appealing to voters' anger, and fend off incoming fire from rivals across the debate stage.
Trump's highlight of the night—and perhaps of the debate season—was an impassioned defense of New York City, his hometown. The moment came in response to an attack from U.S. Senator Ted Cruz, Trump's closest rival in the polls, that the real estate developer isn't a conservative because he embodies "New York values."
"When the World Trade Centers came down, I saw something that no place on Earth could have handled more beautifully, more humanely, than New York," Trump said. "We rebuilt downtown Manhattan, and everybody in the world watched. And everybody in the world loved New York and loved New Yorkers. I have to tell you, that was a very insulting statement that Ted made."
Trump's answer earned applause from the debate audience at the North Charleston Performing Arts Center in South Carolina, and also on social media, where it ranked as the second most tweeted moment of the night.
Peter Wehner, a veteran of the past three Republican administrations and author of a recent op-ed column titled "Why I Will Never Vote for Donald Trump," said the candidate was "emotional and moving."
"This was Trump's best moment, and this is his best debate," Wehner said in an e-mail exchange with Bloomberg Politics. "People will remember the Trump answer, with even Cruz applauding his answer."
Ron Kaufman, the Republican national committeeman from Massachusetts, said Trump was attempting to solidify his support among the conservative base of the party. 
"That was a skillful way to bludgeon Cruz; it was very well done," Kaufman, a longtime Bush family ally, said in an interview. "He was as calm as I've seen him."
Trump seemed more prepared than he had in other debates and "blew it out of the park" with his answer on New York, said Reed Galen, a Republican strategist who was deputy campaign manager for John McCain's presidential bid.
"I never thought I'd say this, but I think I'd give him most improved," Galen said in an interview. "Hoping that he was going to implode? We've been waiting six months for that. And I wouldn't expect that he'll be less prepared next time."
If the audience is any guide, however, Trump appears to have plenty of work to do before uniting his party. He was booed several times during the debate, including when he called former Florida Governor Jeb Bush, the son and brother of two former Republican presidents and a party establishment favorite, as "weak" and compared him to President Barack Obama.
Trump was also booed during an exchange in which he questioned whether Cruz was eligible to run because the Texas senator was born in Canada. (Cruz meets the constitutional requirement of being a "natural born citizen" thanks to his mother's U.S. citizenship, he and many experts say.) But the former host of The Apprentice turned the jeers into laughter when he smiled and suggested the crowd was actually booing the thought of Cruz winning the nomination. 
"I don't see him dropping any, and he might have improved himself, something that I don't think any of us thought was possible," Galen said.
Trump came under fire from both U.S. Senator Marco Rubio and Bush for saying the country should increase tariffs on China if the country devalues its currency. Rubio and Bush said such a move would ultimately cost American consumers.
Faced with another challenge from Bush and Rubio, Trump refused to back away from his his call to temporarily ban Muslims from immigrating to the U.S. He also called corporate inversions "one of the biggest problems we have," and said more guns may have prevented the recent terrorist attacks in Paris and San Bernardino, California.
"If we had guns in California on the other side, where the bullets went in a different direction, you wouldn't have 14 or 15 people dead right now," Trump said.
Asked about South Carolina Governor Nikki Haley's Republican response to Obama's State of the Union address on Tuesday, when she urged her party to resist the "siren call of the angriest voices," Trump called potential vice presidential pick a friend.
"I'm very angry because our country is being run horribly, and I will gladly accept the mantle of anger," Trump said. "We have no borders. Our vets are being treated horribly. Illegal immigration is beyond belief. Our country is being run by incompetent people. And yes, I am angry."
Trump also promised to distance himself from his company, handing it over to his children, if he was elected president.
"If I become president, I couldn't care less about my company—it's peanuts," Trump said. "I'm going to do it for America."
(
Adds attribution to Cruz's eligibility claim in 13th paragraph.
)
Before it's here, it's on the Bloomberg Terminal.
LEARN MORE