Not Going Away
New Polling Numbers Underscore Trump's Staying Power
The data undermines all the theories Republican Party leaders have advanced about why Trump can't win the presidential nomination
by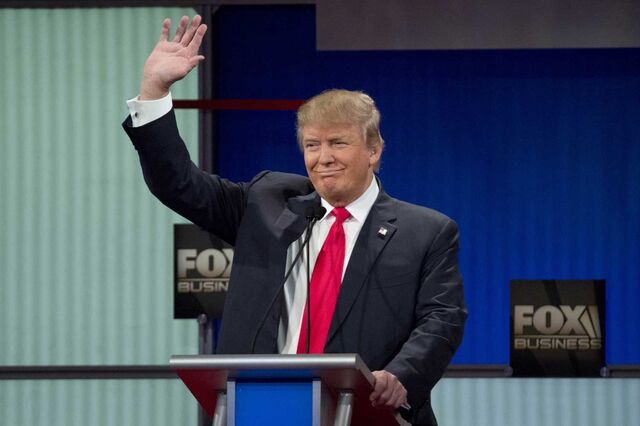 Recent polls bring troubling news for the Republican leaders in Congress and operatives who run the party machinery and loathe Donald Trump: He isn't fading. In fact, he appears to be getting stronger with less than three weeks to go before the presidential nominating contest kicks off Feb. 1 in Iowa.
A new NBC/Wall Street Journal survey out Thursday finds that the brash real estate developer has more than doubled his national lead over the GOP field from 5 points one month ago to 13 points. He commands the support of 33 percent of Republican primary voters, ahead of Ted Cruz with 20 percent, and Marco Rubio with 13 percent.
But the most staggering statistic was just how much Trump has grown in a category pollsters view as critical—how many in the party can see themselves supporting a particular candidate. In March 2015, just 23 percent of Republicans said they could see themselves supporting Trump. In the new poll, that number swelled to 65 percent.
Taken together with the fact that Trump has led nearly every national and state poll of Republicans since July, that disrupts the narrative of many party elites that Trump is barreling toward failure because a majority of party members will never unite behind him.
Also challenged is the argument by Republican elites that Trump has a low ceiling and will fall behind once the field narrows, allowing an alternative candidate to amass more support. The NBC/Wall Street Journal poll found that Trump defeats Cruz and Rubio in a three-way race; the New Yorker gets 40 percent, the Texan gets 31 percent and the Floridian gets 26 percent.
That finding is similar to a recent YouGov poll released Tuesday, which finds that if the field narrows to the top three candidates, Trump wins with 45 percent, while Cruz gets 30 percent and Rubio gets 21 percent.
Trump also defeats Rubio, the establishment-friendly candidate with most traction, by 52 to 45 percent in a hypothetical one-on-one match, according to the NBC/Wall Street Journal poll.
The one ray of hope for anti-Trump Republicans? Trump loses to Cruz by a margin of 51 to 43 percent if the race comes down to the two of them. But that's cold comfort because Cruz has also waged war on his own party leadership and makes his lack of popularity with his colleagues a calling card.
Notably, the YouGov poll found that Cruz handily beats Trump in the category of who's seen as a "proven conservative." Instead, in a revealing sign of what the Republican base wants, Trump dominated in the categories of "bold" and "strong" and "Washington outsider."
Before it's here, it's on the Bloomberg Terminal.
LEARN MORE