Supreme Court Agrees To Hear Convicted Former Governor Bob McDonnell's Appeal
by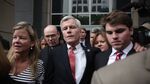 The U.S. Supreme Court will consider making it harder to prosecute public officials for corruption, agreeing to hear former Virginia Governor Bob McDonnell's appeal of his conviction for what government lawyers said was a bribery scheme.
McDonnell, 61, is fighting a two-year prison sentence. He was accused of accepting more than $175,000 in cash and gifts from Jonnie Williams while serving as governor, in exchange for promoting a dietary supplement sold by the businessman's company.
McDonnell contends he didn't do anything to help Williams and merely extended "routine political courtesies" by arranging meetings and attending an event. McDonnell says the appeals court that upheld his conviction used logic that would turn virtually every elected official into a felon.
"This is the first time in our history that a public official has been convicted of corruption despite never agreeing to put a thumb on the scales of any government decision," McDonnell's lawyers argued.
The Obama administration says McDonnell is trying to impose an unwarranted new standard. The administration says that under federal law, prosecutors needed to show only that McDonnell agreed to use the power of his office to influence state government actions.
A federal appeals court upheld the conviction "based on the unexceptionable proposition that a public official violates federal corruption statutes where, as here, he accepts personal benefits in exchange for his agreement to influence government matters," U.S. Solicitor General Donald Verrilli argued. The administration urged the court to reject the appeal without a hearing.
'Official Action'
Federal law, including the bribery statute, makes it a felony to agree to take "official action" in exchange for money, campaign contributions or other gifts.
McDonnell, once seen as a potential Republican presidential candidate, was convicted alongside his wife, Maureen, in 2014. Prosecutors said Williams showered the cash-strapped couple with gifts that included private plane flights, golf trips and a $20,000 shopping spree for Maureen, a former Washington Redskins cheerleader.
Prosecutors said that, in exchange, the governor promoted Williams's Anatabloc. McDonnell was accused of encouraging a subordinate to include the product, promoted as an anti-inflammatory joint supplement, in the state's health plan, prodding state medical schools to conduct clinical tests needed for its federal approval as a drug, and hosting an event at the governor's mansion to mark Anatabloc's introduction for public sale.
The former governor had bipartisan backing in his bid for a Supreme Court hearing. Among those urging high court review were two former Democratic White House counsels, Jack Quinn and Gregory Craig.
The Supreme Court signaled interest in McDonnell's appeal in August when the justices blocked his prison sentence while they considered whether to take up the case.
The case is McDonnell v. United States, 15-474.
Before it's here, it's on the Bloomberg Terminal.
LEARN MORE