Two States of the Union, One Target: Donald Trump
The dual jabs from President Obama and Governor Haley show Trump is driving the conversation to a degree no one predicted a year ago.
by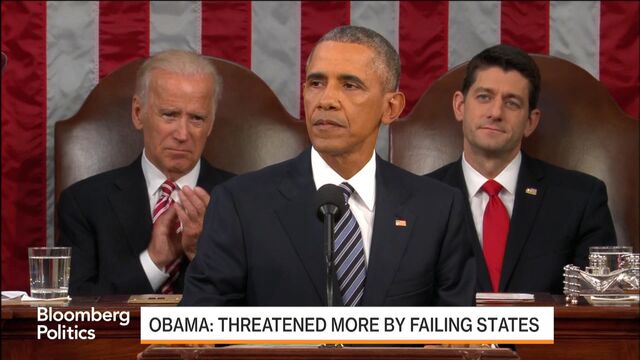 Lest anybody doubted the Republican response to President Barack Obama's final State of the Union was also a response to Donald Trump, that was cleared up Wednesday.
"Mr. Trump has definitely contributed to what I think is just irresponsible talk," South Carolina Governor Nikki Haley, who gave the speech, said on NBC's Today Show.
The dual jabs may say little about who will ultimately win the nomination, yet certainly showed that Trump is driving the conversation to a degree no one predicted a year ago.
"I have no dog GOP nomination fight, but do say this: Both Obama & Haley attacked @realDonaldTrump. If you're being attacked, you're winning," former Representative Trey Radel said in a tweet.
Obama's speech Tuesday night was laced with jabs at Trump, who has dominated national polls and the political debate for months with a promise to aggressively crack down on immigration—mass deportation of people in the U.S. illegally, a wall on the southern border, and a dramatic reduction of future legal immigration levels—and a proposal to temporarily ban Muslims from entering the country.
"We need to reject any politics that targets people because of race or religion. This isn't a matter of political correctness," the president said, referencing a favorite target of Trump's. "It's a matter of understanding what makes us strong."
"When politicians insult Muslims, when a mosque is vandalized, or a kid bullied, that doesn't make us safer. That's not telling it like it is. It's just wrong," he added.
Haley's upbeat speech also took veiled jabs at Trump, imploring those who want to make a difference to "turn down the volume."
"I am the proud daughter of Indian immigrants who reminded my brothers, my sister and me every day how blessed we were to live in this country," she said. "Today, we live in a time of threats like few others in recent memory. During anxious times, it can be tempting to follow the siren call of the angriest voices. We must resist that temptation. No one who is willing to work hard, abide by our laws, and love our traditions should ever feel unwelcome in this country."
Some conservative pundits rushed to his side in response to Haley's swipes.
The most revealing comment came from provocateur Ann Coulter, an enthusiastic Trump supporter, who captured the essence of the Republican split that has deepened as a result of Trumpism.

Conservative talk-radio host Laura Ingraham also chimed in.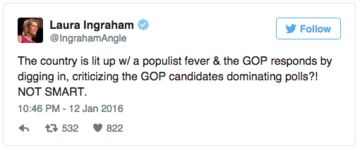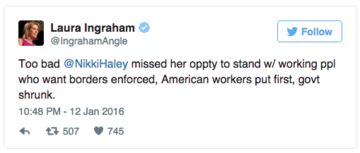 Breitbart.com editor John Nolte also wasn't impressed.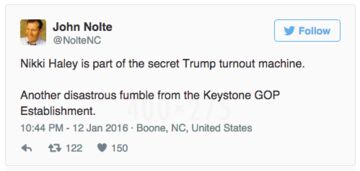 Nor was writer and occasional Fox News pundit Michelle Malkin.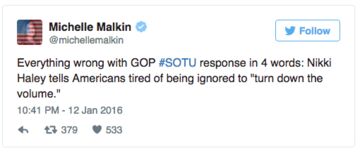 It wasn't all bad for Haley. Some conservative advocates, such as talk-radio host Erick Erickson, praised her speech and floated her as a strong vice presidential candidate. Pollster Frank Luntz found positive overall feelings toward Haley's response.
(
Corrects Radel's status as a former congressman in fourth paragraph.
)
Before it's here, it's on the Bloomberg Terminal.
LEARN MORE