Republicans Nod to Gun Deaths With State of Union Guests
by
First lady's box had empty seat for victims of firearms

Obama urged nation to take more action to stem gun death toll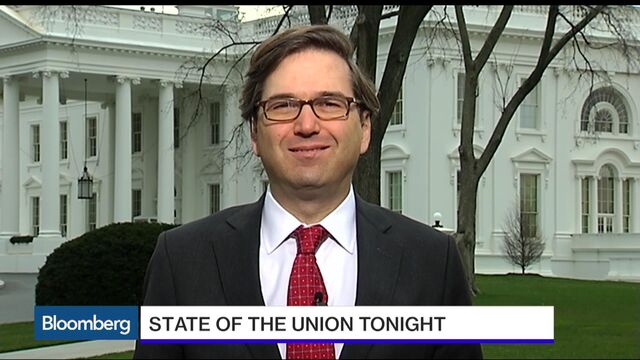 Two Republicans joined President Barack Obama in paying tribute to victims of gun violence during Tuesday's State of the Union address, a sign of the issue's growing resonance in U.S. politics.
In First Lady Michelle Obama's guest box for the speech, a chair was left vacant to represent victims of gun violence, which claims more than 30,000 lives annually in the U.S. Two Florida Republicans, Representatives John Mica and Carlos Curbelo, invited people affected by gun violence to attend the address, in which Obama repeated calls for Congress to decrease the toll.
Mica, who this month sent Obama a 10-point list of potential actions on gun violence, invited a medical student who was shot in the abdomen in New Orleans last year after trying to help the victim of a street robbery.
"This isn't a political statement or anything," Mica said in an interview. "It isn't a conflict with the president or trying to upstage him or anything. This is a young man who carried out a courageous act."
Curbelo said he had invited Tara Parks, a South Dade woman whose 22-year-old son was shot and killed in 2014.
"Tara's story is sadly one that Americans have heard too many times," Curbelo said in a statement. "Congress must find comprehensive solutions to address community violence which means: promoting educational and work opportunities, investing in mental health, empowering local leaders to find solutions that will lift families out of poverty and ensuring that laws and regulations designed to prevent criminals from obtaining firearms are properly enforced."
Background Checks
Obama was thwarted by congressional Republicans when he tried to win new laws requiring universal background checks for gun sales and barring the sale of high-capacity ammunition magazines after the massacre of 26 children and educators at an elementary school in Connecticut in 2012. 
Last week he announced modest steps to expand background checks and enforce existing gun laws, saying he could do no more without action by lawmakers.
While gun control remains a divisive issue -- with the divide most pronounced between Republicans and Democrats -- polls show Americans' concern about gun violence is rising after almost two dozen high-profile mass shootings since Obama took office.
NRA Support

Although both Mica and Curbelo represent districts that skew politically moderate, neither is outside Republican orthodoxy on guns. Mica had a 93 percent support rating in 2014 from the National Rifle Association, the nation's biggest gun lobby, according to Project Vote Smart, which compiles interest-group ratings of elected officials. Curbelo had an 86 percent NRA rating in 2014.
But both face changing demographics in their state. A new Florida congressional map last month added more Democrats to Curbelo's district in southern Miami-Dade County. The nonpartisan Cook Political Report rates his race for re-election to a second term as a "toss-up." Mica's district north of Orlando also absorbed more Democrats, changing it from a Republican-leaning constituency to one evenly divided between the two parties.
Mica's guest was Peter Gold, a student at Tulane University who encountered a robbery in progress while leaving work late at night. He intervened and was shot in the stomach. The crime was captured on a closed-circuit video showing the robber pointing the firearm at Gold's head, only to have it jam. A suspect has since been arrested and charged with crimes including attempted first-degree murder, according to local news reports.
Mica said he learned Gold was from his central Florida district after the shooting and invited him to Washington and later to the State of the Union.
"It actually happened before I heard the president was going to do his empty chair for victims of gun violence," Mica said. "He's, to me, a hometown hero. How many people would risk their life to save someone?"
Mica sent Obama a memo on Jan. 6 listing 10 steps Obama could take to reduce gun violence that are within his existing authority and wouldn't require changing law.
The list includes policies to "strengthen families and promote fatherhood," improve community mental-health services and discourage drug legalization. Mica also suggested that Obama "conduct town hall meetings, not on CNN, but rather with young thugs in homicide-prone cities like Chicago, Baltimore, Detroit and New Orleans" and create a video for young men "explaining the responsibilities of fatherhood and the proper respect for human life."
Before it's here, it's on the Bloomberg Terminal.
LEARN MORE