House Passes North Korea Sanctions Bill After Nuclear Test
by
Shipping, financial industries might feel impact, experts say

Individuals who transfer money, property could be penalized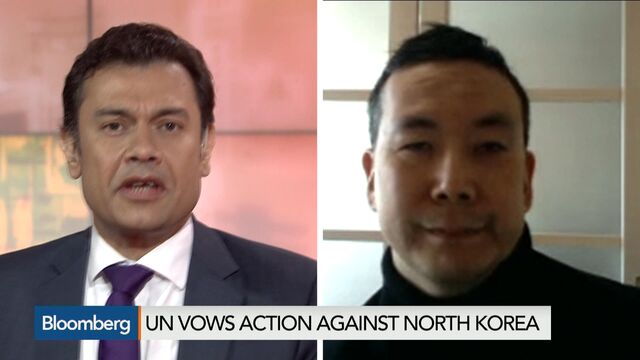 The U.S. House voted to toughen sanctions against North Korea following last week's nuclear test, showing overwhelming support for a measure that would mostly target non-U.S. companies.
The sanctions bill was backed by Democrats and Republicans alike in the 418-2 vote Tuesday.
The legislation, H.R. 757, would authorize sanctions against companies that contribute to North Korea's nuclear program and ballistic missile development, send luxury goods to the country, help its censorship efforts or aid human rights abuses, according to a House Foreign Affairs Committee summary. The president would have the authority to waive penalties for as long as a year.
"The latest test demands a response," Representative Eliot Engel, a New York Democrat and co-sponsor of the bill, said on the House floor Monday. "North Korea has become more and more savvy at evading sanctions and that is why this bill broadens our sanctions."
Senate Majority Leader Mitch McConnell of Kentucky said Tuesday that he plans to schedule floor time on a companion measure, S. 2144, sponsored by Colorado Republican Senator Cory Gardner, which McConnell said will be considered soon by the Senate Foreign Relations Committee. The White House has yet to comment on either bill.
It's difficult to say what companies would be affected by the legislation and whether any are in the U.S., said Bruce Klingner, a senior research fellow for Northeast Asia with the conservative Heritage Foundation. That's because any entities being sanctioned would have to already be in violation of U.S. law, he said.
"The answer is we don't know," Klingner said in a phone interview. "It would only target activity against those who are breaking the law."
The two votes against the measure came from Republicans Justin Amash of Michigan and Thomas Massie of Kentucky.
'Iran Playbook'
The House measure would primarily target the banking industry, said Adam Smith, who served in the Obama administration as senior adviser to the director of the U.S. Treasury Department's Office of Foreign Assets Control.
"In a page right out of the Iran playbook, the idea is that if you can force financial institutions into a choice between transacting with North Korea or transacting with the United States, they will all choose the latter and leave North Korea out in the cold," Smith, who is of counsel at the law firm Gibson, Dunn & Crutcher LLP, said in an e-mail. "I don't think you are dealing with many U.S. companies here, though."
The president could impose sanctions on individuals determined to have knowingly facilitated the transfer of funds, financial assets or property in violation of U.S. executive orders or United Nations Security Council resolutions, according to a review of the legislation by Bloomberg Government analyst Stacy Z. O'Mara.
"Sanctions would apply to entities and individuals that engage in transactions with -- or provide financial services to -- North Korea and its financial institutions without adequate safeguards to protect against illicit activities," O'Mara said in an analysis of the bill. "Such protections have been defined in executive orders and United Nations Security Council resolutions covering nonproliferation of weapons of mass destruction dating back to 2006."
Shipping Inspections
The bill could allow for stiffer inspections of any vessel that has used a port that doesn't sufficiently inspect traffic from North Korea. The legislation would require the White House to report to Congress on overseas ports and airports whose inspections are insufficient, according to the House Foreign Affairs summary.
"Cargo coming from ports that consistently fail to inspect North Korean cargo, as required by UN resolutions, may be subject to increased inspection requirements at U.S. ports," the bill summary said.
There is significant bipartisan support for increasing sanctions on North Korea. The House bill is sponsored by Engel and House Foreign Affairs Chairman Ed Royce, a California Republican.
Durbin, Menendez
Two prominent Senate Democrats -- Dick Durbin of Illinois, the second-ranking member of his party in the chamber and Bob Menendez of New Jersey, a former Senate Foreign Relations panel chairman -- have teamed up with South Carolina Republican Lindsey Graham on a separate North Korea measure, S. 1747. It would expand the administration's ability to sanction property or seize money belonging to people who support North Korea.
But McConnell said Tuesday that he plans to pursue Gardner's bill, which more closely mirrors the House version.
The bill might be altered as it moves through Congress, perhaps to order broader secondary sanctions against North Korea, said Richard Nephew, who served as principal deputy coordinator for sanctions policy against Iran at the State Department and was involved in the Iran negotiations from August 2013 through December 2014.
"The set of discretionary sanctions can become mandatory," said Nephew, who now leads Columbia University's Center on Global Energy Policy. "Then all of a sudden you are in a problematic spot with U.S.-China relations in particular."
China Business
Secondary sanctions, such as those in place for Iran, would force U.S. businesses and financial institutions to ban dealings with any foreign entity that may have facilitated illicit North Korean activity. That could mean a huge loss of U.S. business in China, the North's biggest trading partner, he said.
"If I were still in government, I'd be telling Congress, 'Don't do anything,'" Nephew said. He advised against legislation "that would convince the Chinese that there is no point in doing anything at the UN because the Americans are going to do what they want anyway."
"If the UN acts, then it's far better and we can complement it with our own authorities later on," he said.
Before it's here, it's on the Bloomberg Terminal.
LEARN MORE