The State of Chris Christie's New Jersey, in Six Charts
by and
Republican governor to give annual address to lawmakers

On the presidential campaign trail, he confronts his record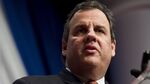 After a year in which Governor Chris Christie spent more than half his days outside New Jersey, the Republican presidential candidate returns for his annual state agenda-setting speech Tuesday.
Expect to hear Christie, 53, talk about how he's added jobs, shrunk government, rejected tax increases from a Democratic-led legislature and put New Jersey on the road to fiscal wellness.
Aside from the rhetoric, here's the state of the state, in six charts:
1. Christie inherited a more-than $30 billion pension-funding gap after previous governors skipped or cut cash infusions while expanding benefits. He and the legislature in 2011 approved a bill to increase annual payments in exchange for employee givebacks, including higher health-care contributions. In 2013, Christie defied his own law, cutting contributions after revenue missed targets. He has urged unions and lawmakers to agree to more benefits changes. Democrats say he won't get their support without full pension payments.

2. The state's borrowing costs compared with top-rated 10-year municipal bonds swelled as its credit rating fell nine times under Christie thanks to the pension costs and revenue shortfalls. Only Illinois pays more, according to data on 20 states tracked by Bloomberg.

3. New Jersey's failure to recover jobs as quickly as its neighbors has had Christie defending his economic policies, which include tax breaks and less business regulation.
Six years after the recession, the state's employment market is showing signs of life. New Jersey added 55,100 jobs in 2015, not including December numbers that haven't been released. That's more than any full year since 2000, according to state data.

4. New Jersey residents pay the highest property taxes in the U.S., a ranking that hasn't budged since Christie took office. Granted, those levies are collected by municipalities, not governors. Still, many towns raised them after Christie cut aid to balance his budget.
Christie did slow the tax-growth rate with a 2 percent cap on annual increases. New Jerseyans continue to have the second-highest state-local tax burden in the U.S., according to the Washington-based Tax Foundation.

5. Christie borrowed more than promised to fund road and rail work. Come July 1, the state will have exhausted its $8 billion, five-year transportation-funding plan. No replacement is in place.
A higher gasoline tax that has been endorsed by Democratic lawmakers to replenish the fund is opposed by Christie, who says New Jerseyans can't afford it. Meanwhile, New Jersey Transit trains are going fewer miles between breakdowns, agency data show, and 35 percent of the state's bridges are obsolete, compared with a U.S. total of 24 percent, according to the Federal Highway Administration.

6. The campaigning has taken a toll on Christie's home-state popularity. In a Dec. 10 Rutgers-Eagleton poll, Christie's approval fell to a low of 33 percent among registered New Jersey voters.
In recent days, as Christie's New Hampshire approval rose as he campaigns for that state's February primary, his Republican presidential rivals have attacked his New Jersey record. A super-PAC supporting Florida Senator Marco Rubio released ads faulting Christie for high taxes, weak growth and the George Washington Bridge traffic-jam scandal. Ohio Governor John Kasich chided him for unbalanced budgets and downgrades, while former Florida Governor Jeb Bush declared himself superior on job creation and leadership.

Before it's here, it's on the Bloomberg Terminal.
LEARN MORE