Fighting Words
Ex-New Hampshire Governor Sununu Says Trump Will 'Ruin' GOP
On "With All Due Respect," the feud between Sununu and the Republican presidential front-runner shows no signs of cooling.
by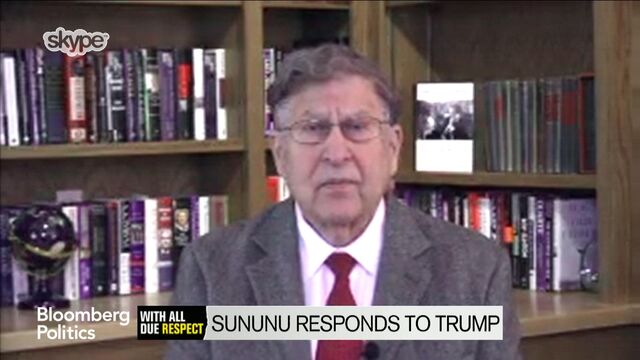 There is no love lost between former New Hampshire Governor John Sununu and billionaire Republican presidential candidate Donald Trump. 
Sununu blasted Trump during a Monday interview with Bloomberg's With All Due Respect, calling the front-runner "dumb" and saying he threatens to "ruin the Republican Party."
Sununu's comments come hours after Trump, at a rally in Windham, Iowa, insulted a Jan. 3 op-ed Sununu wrote for New Hampshire's Union Leader titled "Don't Drink the Trump Kool-Aid."
"It was so bad, I don't even know the guy," Trump said of the op-ed. "Yet, he is a Bushie, but John H. Sununu was fired by Bush. He was fired, right? Yeah. He was fired like a dog, he was fired viciously. He is such a dumb guy, he doesn't even know he was fired."
Sununu, who resigned as White House chief of staff under George H.W. Bush in 1991 amid fears of hurting Bush's chances at re-election, responded by giving Trump a taste of his own medicine.
"That's pretty funny, coming from a guy who's got four major bankruptcies in his record, screwed his stock holders and was told by his bankers 'Donald Trump, you're fired'—fired him like a dog—the fact is that the guy's too dumb to know he was fired," Sununu said, apparently referring to the four occasions (in 1991, 1992, 2004 and 2009) that Trump businesses filed for Chapter 11 reorganization. 
"I'm certainly afraid for the Republican Party," the former governor and chairman of the New Hampshire Republican State Committee said. "I think he could ruin the Republican Party."
Sununu described Trump as a "political chameleon" who is "all over the place" in regard to his stances on immigration, abortion, and health care.
"I think he's playing the rhetoric game very, very well and when people are not taking the time to look beyond the rhetoric he's winning the support," Sununu said.
When the former New Hampshire governor was asked why Trump is not only leading nationally, but is also lapping the field in his first-in-the-nation primary state, Sununu said the billionaire's success was a matter of optics, but that soon the Granite State will see past the glitz.
"The guy is very good in terms of TV, he's a reality show star. He attracts audiences like Kim Kardashian would, he's been using the same kind of language that plays to anger," he said. "But the fact is that now is the time—I think—our voters up here usually start looking at issues and character of who they want to be sitting in the White House and actually being commander-in-chief."
Sununu has yet to publicly endorse a Republican candidate for president, but his son, former New Hampshire Senator John Sununu, supports Ohio Governor John Kasich. 
(
Corrects pull quote attribution.
)
Before it's here, it's on the Bloomberg Terminal.
LEARN MORE