Cruz Decries 'Fevered Swamp Theories' Over Eligibility to Serve
by
U.S. presidential contender says mother's citizenship valid

Trump claims lawsuit awaits Texas senator if nomination won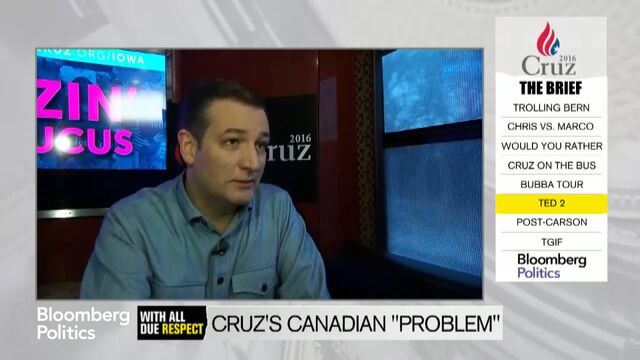 U.S. Senator Ted Cruz, who is leading some polls among Republican presidential candidates in Iowa, said his birth in Canada doesn't disqualify him from becoming president.
"As a legal matter, the Constitution and federal law are clear that the child of a U.S. citizen born abroad is a natural-born citizen," the Texan said in an interview broadcast on CNN's "State of the Union" show Sunday.
Cruz's birth in Calgary 45 years ago has been raised by rival Donald Trump, who said Democrats would file a lawsuit challenging Cruz's eligibility if he won the Republican nomination. The Constitution's requirement that the president be a "natural-born citizen" was also brought up last week by Republican Senator John McCain of Arizona, who said Cruz's situation should be looked into.
Cruz was born in 1970 to an American mother and a Cuban father who moved north to work in the oil industry. The family returned to the U.S. about four years after Cruz was born.
Cruz renounced his Canadian citizenship in 2014, almost a year after the Dallas Morning News reported on it.
On Sunday, Cruz, who served as Texas solicitor general from 2003 to 2008, said his mother was born in Wilmington, Delaware, and remained a U.S. citizen her entire life.
"The Internet has all sorts of fevered swamp theories but the facts are simple," he said.
Cruz compared his situation with that of past presidential contenders McCain, who was born on a U.S. military base in the Panama Canal Zone; George Romney, who was born in Mexico; and Barry Goldwater, who was born in Arizona before it was a state.
McCain faced questions about his eligibility when he ran in 2008.
Cruz, in an interview with Mark Halperin on Bloomberg's "With All Due Respect" Friday, said the Arizona senator is secretly trying to boost Senator Marco Rubio's chances at the Republican nomination.
Cruz leads Trump by 4 percentage points in Iowa, the first state to hold a caucus or primary, in the Real Clear Politics average of recent polls.
Trump previously raised questions about President Barack Obama's birthplace, questioning whether the president was born in Hawaii even after a birth certificate was produced, spawning conspiracy theories.
Before it's here, it's on the Bloomberg Terminal.
LEARN MORE