Limited Liability
Bernie Sanders Supported Gun Company Immunity But Opposed It for Other Industries
In 2005, Sanders voted against offering legal protections to fast food companies.
by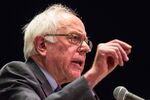 The day before then-Vermont Representative Bernie Sanders voted to grant the gun industry immunity from legal liability, he voted against doing the same for fast-food companies and opposed doing the same for half a dozen other industries during his time in the House, roll call records show.
On Oct. 20, 2005, Sanders voted against the Personal Responsibility in Food Consumption Act, also known as the "cheeseburger bill," aimed at protecting McDonald's and other fast-food restaurant chains from lawsuits filed by plaintiffs who blamed the companies for causing obesity. The next day, he voted in favor of protecting gun manufacturers and sellers from lawsuits.
Hillary Clinton, the Vermont senator's chief opponent for the 2016 Democratic presidential nomination, has criticized the latter vote for months, pointing to it as a sign of Sanders' weakness on gun control, along with five votes against the Brady Bill.
With the Democratic primary heating up in its final weeks and President Barack Obama taking new executive actions on guns, Clinton and her campaign ratcheted up the pressure on Sanders this week, arguing that he yielded to the gun industry where she stood firm.
"When it really mattered, Senator Sanders voted with the gun lobby, and I voted against the gun lobby," Clinton said of the immunity vote in a Friday interview with MSNBC's Chris Matthews.
While he voted to protect the gun industry, Sanders's record shows him more aligned with the party's left wing in not granting immunity to fast food and several other industries. During his time in the House of Representatives, where he served for eight terms, he opposed bills that would have barred Americans from suing over Y2K computer failures, underperforming securities, and machine tool manufacturers. He supported legislation allowing Americans to sue telemarketers, health insurers, and dietary supplement makers.
Sanders has at times supported liability protection, including for mortgage lenders during the loan-modification process and for border-control officers who conduct personal searches in good faith. He also voted in favor a 2002 bill creating a program in which commercial pilots would be deputized as federal law enforcement officials and allowed to carry guns aboard planes. Pilots and airlines would have been exempt from legal liability for defending planes from terrorist attacks except in cases of gross negligence or willful misconduct.
Clinton campaign chairman John Podesta said in a statement to Bloomberg Politics that "Senator Sanders' record shows he is willing to hold most industries accountable for their abuses, but not gun manufacturers. It makes zero sense to provide an exception for the gun industry."
Podesta also repeated Clinton's call for Sanders to commit to fully repealing immunity for the gun industry. "The NRA said this was its biggest priority in 20 years, and Senator Sanders still refuses to admit he got it wrong," he said.
Clinton has jumped on the guns issue in part because it's one of the few areas where her record shows her consistently to the left of Sanders, who says his position and past votes simply reflect the reality of living in a mostly rural, low-crime state like Vermont, where hunting is a popular pastime. 
The Clinton campaign on Friday suggested that Sanders's vote on gun industry liability puts him at odds not only with her, but with Obama, who said in a New York Times op-ed on Thursday that he "will not campaign for, vote for or support any candidate, even in my own party, who does not support common-sense gun reform." Clinton and Obama both voted against the Senate version of the bill that Sanders supported.
Sanders and his campaign have spent the weekend noting that while Clinton is criticizing him from the left on guns, she went at Obama from the right during the 2008 Democratic primary.
Sanders campaign manager Jeff Weaver said Clinton's focus on the guns issue reflects a desire to distract from her vulnerabilities elsewhere.
"The Clinton campaign and the Clinton Super PAC are continuing to lash out on this because they do not want to talk about why Secretary Clinton does not support the leading family and medical leave bill in the Congress, why she does not support expanding Social Security benefits for all recipients and why she is against breaking up the big banks," he said in a statement.
"The Clinton campaign's attacks might be more compelling if the Secretary had not been on every side of the gun control issue in the last 15 years," he added. "Voters will recall her attacks on President Obama during the 2008 campaign—attacks that prompted him to dub her Annie Oakley with a six-shooter."
Sanders said Sunday on ABC's This Week that he is "absolutely willing, as I've said for many, many weeks, if not months, to take another look at that piece of legislation." But, he added, "parts of it made sense to me." 
He continued: "If you have a small gun shop owner in Northern Vermont who sells a gun legally to somebody and then, you know, something happens to that guy, he goes nuts or something, and he kills somebody, should the gun shop owner be held liable? I think not."
Before it's here, it's on the Bloomberg Terminal.
LEARN MORE