Trump and Bush Rally Supporters in South Carolina
While the billionaire front-runner held a stadium-sized rally in Rock Hill, Bush tried to gain traction 125 miles away in a diner owned by a man outraged by Trump.
by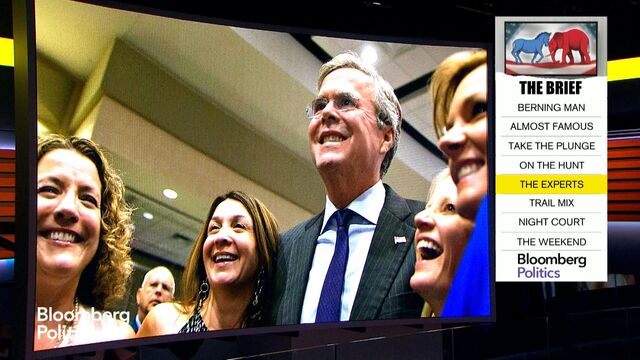 Donald Trump and Jeb Bush held dueling rallies on Friday in South Carolina, separated by about 125 miles but joined by a common disdain for each other.
Trump, the front-runner for the Republican Party's presidential nomination, attracted a capacity crowd to the 6,100-seat Winthrop Coliseum in Rock Hill, near the state's northern border, while Bush spoke to a couple hundred people at Dyar's Diner in western South Carolina.
Trump repeatedly mocked Bush to the delight of his crowd, taking aim at Bush's low poll ratings and his "Jeb Can Fix It" motto. "I can fix it, Jeb can't fix it," Trump said.
In Pendleton, Bush continued to hone his image as the anti-Trump. "Donald Trump has no clue how to be a commander-in-chief; he has no clue," the former Florida governor said. "There are reasons why people are angry; I get that. But I hope you want someone who actually has solutions."
The back-and-forth between the two candidate highlights the heated battle underway for the direction of the Republican Party. Trump has tapped into populist disdain for the political class, while Bush—the son and brother of former presidents—has pitched himself as more acceptable to voters in the general election.
Bush has attempted to resurrect his campaign by taking on Trump, which few others in the race have been willing to do. He underscored that theme on Friday by visiting a tidy meat-and-three and fried chicken haunt, whose owner was inspired by Bush's targeting of Trump.
Until recently, owner Tim Dyar said that his idea of engaging in politics was "to sit and talk and complain about how things are." That all changed in late November, when he saw the billionaire Republican candidate appear to mock a New York Times reporter by imitating his physical handicap that limits his ability to control his arm movements. 
"I was just so angry to see somebody who wants to be president of the United States mocking somebody," said Dyar, whose 12-year-old son, Breylen, has cerebral palsy. "I just couldn't let that stand."
Attracted to Bush's executive experience, appeal to Hispanics, and sympathetic demeanor, Dyar said he then filled out a volunteer form on Bush's website. He received a call the same night.
"When he mocks the handicapped where's the outrage?" Dyar said of Trump as he introduced Bush to the crowd at the diner. "We don't need a leader like that. We need a leader like this man."
Chad Groover, chairman of the Greenville County Republican Party, also introduced Bush, saying, "The ascendancy of Donald Trump is concerning. I want to see a president that I'm proud of" and who is "not a jerk." Bush is "one of the most competent men I've ever met. He can be the president. Let's help him win!"
Bush, struggling in polls, is trying to reverse negative perceptions among fellow Republican voters as Trump's rise, longevity and divisiveness alarms many in the Republican establishment. Former South Carolina Republican Party Chairman Katon Dawson said earlier this week that he hopes Jeb Bush's brother, former President George W. Bush, would engage to stop Trump.
Jeb Bush seems not to want to cede that role to his brother. In a question-and-answer session at the diner, the candidate said he wanted to shift more government decision-making to states, reform federal lobbying, destroy the Islamic State, and adopt a comprehensive approach to helping Americans overcome addiction. He acknowledged his own daughter's past struggles. "I love her and I'm proud of her," he said.
But it was his rhetoric about personal conduct that had some of the patrons talking. "Volume of your voice is not a sign of strength; it's not," he told the diner crowd. "I know in my heart I can beat Hillary Clinton. I will campaign with dignity but I will campaign with toughness. I will campaign to take it to her."
Lenora Blanton, 49, a banker who attended the Bush event, said she has not yet decided whom to support and that she remains concerned about Bush's viability in a primary where Trump, Ted Cruz and Marco Rubio have commanded more attention. At the same time, she said, the conduct of Trump, whom she initially liked for his ideas, is increasingly causing her to take a second look at Bush.
Trump is "a loose cannon," she said. "Bush is more stable. He thinks more about things. I think he's calm and level-headed. That's very appealing to me."
Michael C. Bender contributed reporting.
Before it's here, it's on the Bloomberg Terminal.
LEARN MORE