Pat-Downs
No Donald Trump Selfie for South Carolina Congressman
With heightened security around the Republican presidential front-runner, not even federal lawmakers can be taken for granted.
by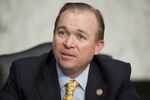 As Donald Trump posed for pictures with VIPs before his rally in Rock Hill, South Carolina, there was one person missing: U.S. Representative Mick Mulvaney, whose district includes the 6,100-seat arena that the New York reality star packed on Friday night.
Why? 
"I had not been vetted," Mulvaney said. "I am not bullshitting you. I could not get back there to meet him."
Mulvaney laughed as he recounted the story—in front of reporters—to state Representative J. Gary Simrill. Simrill, whose district also includes Rock Hill, prompted the outburst when he showed off his own picture with the front-runner for the Republican Party's presidential nomination.
Mulvaney was also "wanded" for weapons before entering the arena, are areother men and women attending Trump events. "They also asked me if I was carrying a gun when I walked in," Mulvaney said. "I'm like, 'I'm happy to do this, but they don't ask that when I go see the president.'"
Mulvaney, who is backing Senator Rand Paul's Republican presidential bid, said he was coming to see Trump, just like he attends all presidential events in his district. His disbelief at the security at Trump's events was a glimpse into the momentum—and, at times, pandemonium—that has propelled the celebrity real estate mogul to the top of the polls.
"This is a whole different level of security here tonight," Mulvaney said.
Trump's blunt rhetoric invokes passionate responses from his supporters: one of the biggest roars on Friday was when he promised to "knock the shit out of ISIS."
It also provokes detractors. Multiple protesters interrupted Trump's rally in Vermont on Thursday, and another four were removed from the event on Friday.
"Isn't a Trump rally more fun than all these other stiffs?" Trump said about his presidential rivals as one protestor was removed on Friday. "It's great, it's great. I mean, last night was, like, so amazing. Tonight's amazing. And then you go to some of these others, I mean, you go to Jeb Bush's rally and you fall asleep immediately."
Before it's here, it's on the Bloomberg Terminal.
LEARN MORE