Backup
Steve King Defends Ted Cruz's Citizenship Status
Critics are questioning whether the Texas senator's mother may have renounced her U.S. citizenship when she relocated to Canada.
by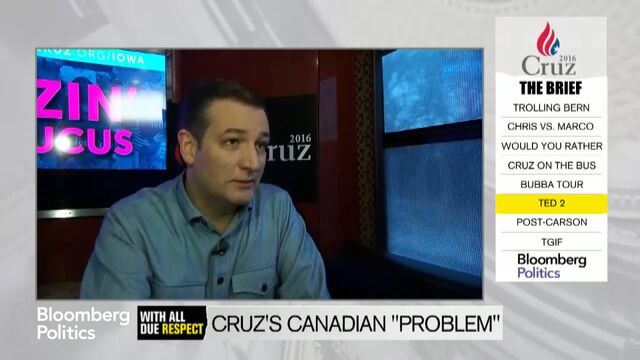 Representative Steve King, an Iowa Republican, vehemently defended Senator Ted Cruz's U.S. citizenship on Thursday and said he was going to stand up for the presidential candidate at home.
"They're going to hear it from people like me," said King, who has endorsed Cruz in the first caucus state. "He's a citizen by virtue of his birth to a mother who is an American citizen and a father who soon became one."
Cruz has faced questions about whether he is qualified to run for president since he was born in Canada and his father was a Canadian citizen at the time. His mother was a U.S. citizen, therefore granting him citizenship.
But some critics, like Florida Democratic Representative Alan Grayson, have suggested that Cruz's mother may have renounced her U.S. citizenship when she and then-husband Rafael moved to Canada. Cruz's mother "may have elected to give up her U.S. citizenship. She wasn't there on a visitor's visa for five years, that's for sure," Grayson told U.S. News & World Report. 
"If his mother, who clearly worked in Canada for years and years, did so while becoming a Canadian citizen and taking an oath, which is how you do it in Canada, she lost her citizenship by U.S. law, specifically Section 349 of the Immigration and Nationality Act," Grayson, who is running for Florida Senate, told U.S. News.
King looked to move beyond the controversy. "I have no doubt that Ted Cruz's mother was born in the United States and that she has a birth certificate in the United States and that she is also a natural born citizen," King said.
"I know that there's been an allegation that her birth certificate—she was born in the United States," he added. "I don't think there's any reason for her to have anything other than an American citizenship."
As for whether the latest controversy would hurt Cruz in Iowa, where he leads the polls ahead of the Feb. 1 contest, King was resolute. 
"He is exceptionally well disciplined," King said. "Ted is clear. He says, 'I'll answer it this way and that's the answer. There's nothing more to be said.'"
Before it's here, it's on the Bloomberg Terminal.
LEARN MORE