Big Game
In Iowa, Donald Trump Jr. Pulls the Trigger for His Dad
Sometimes, the best surrogates carry shotguns.
by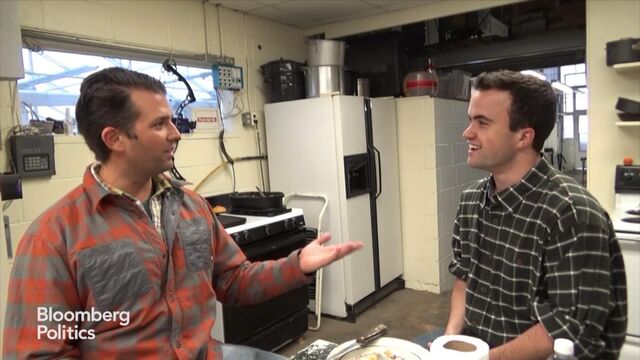 In 1990, the divorce of the decade was playing out on the front pages of the New York Post and The Daily News. At The Hill School, a prestigious boarding school near Philadelphia's elite Main Line, the dean wanted to see Donald Trump Jr., then 12 years old. 
"Meet me in the parking lot—Saturday, 6 a.m.," Trump said the then-dean, Gordon McAlpin, told him. That weekend, the dean handed him a shotgun and took him on his first upland hunt.
"I was hooked," said Trump, 38, now married with five children. "Nowadays, in our politically correct culture, if a teacher did that, you'd have to call the police."
Trump recalled the story during a lunch break from a hunt with a few residents of Centerville, Iowa, over a plate of beef and biscuits with gravy. He'd invited a reporter along, but he made clear where his loyalties were. "If he gets a little carried away," he said to his fellow hunters, "you just got to take him out. Just take the camera, throw it in the river—no one is going to know."

Trump came to Iowa this week at the invitation of Governor Terry Branstad, the Republican whose annual hunting fundraiser, which he attended two years before, is this weekend. He called "some of my friends" he'd met at the previous hunt to see if they wanted to start early.  
"We had it planned for a while—but I'm not here for political purposes," he said, almost convincingly.
In Iowa, his father is running second to Ted Cruz in the polls, with less than a month until the caucuses. And in Washington, President Obama had unveiled a new series of gun control executive orders vehemently opposed by his father. So holding a gun in a field with a few locals is not a bad image to project.
"I'm here so you can't avoid the campaign," Trump demurred. "I'm my father's son—I believe in what he's doing and so I'll do local radio and stuff. But I wouldn't normally show up like this for an interview with Bloomberg," he added with a laugh, pointing to his jeans and flannel shirt.
In terms of shooting, however, Donald Trump Jr. is the real deal. "People don't believe it—they think I'm a cocktail party hunter, where you do it once and talk about it but I plan my vacations around this stuff."

"Shooting for me taught me discipline, respect, understanding that you don't get second chances to make mistakes," he said. And it was a way for him to make friends as a teenager, giving him another identity besides his famous name.
Another source of his interest in the outdoors, he said, was his grandfather, Milos Zelnicek, the father of his mother Ivana Trump, with whom he spent summers in communist Czechoslovakia. "He saw the lifestyle we had in American and my father was just starting to make it—he wasn't what he is today—my granddad said, 'This is great, but I want to make sure you don't fall for the pitfalls that can happen in that same lifestyle,'" he said. "Every night was around the campfire. He was like, 'There's the woods—go play. I'll see you at dark.'" When he died, in 1990, his father joined his estranged wife at the funeral.
In Iowa, a gun is an emblem of rural life. But that's not true everywhere. After the killing of Cecil the lion in Zimbabwe by a Minnesota dentist, Donald Trump Jr. was caught up in the intense media drama when pictures surfaced of him, gun in hand, with several exotic animals he'd shot on Safari in Zimbabwe in 2011. In that context, he looked like a heedless child of privilege.
"It goes viral and PETA says that basically I'm crazy and that I'm the worst human being in the world," he said. "They tried to make it look like I was out there poaching illegally. Nonsense."
Trump didn't apologize. "Not exactly our style," he explained. Instead, he got in touch with the hunting community, and attempted to flip the narrative, turn the negative into a positive. Now, he says, he enjoys speaking publicly about hunting, "whether it's the national parks system with Theodore Roosevelt or the money they're contributing to preserve the environment and conserving our public lands for everyone to enjoy."
Trump resisted being drawn in to talking about the campaign, but he was more than willing to talk Second Amendment rights. "I don't think it's something my father gets enough credit on. He's been a very vocal supporter of the second amendment. But they're like, 'Oh, he's a New York guy so he can't be,'" he said.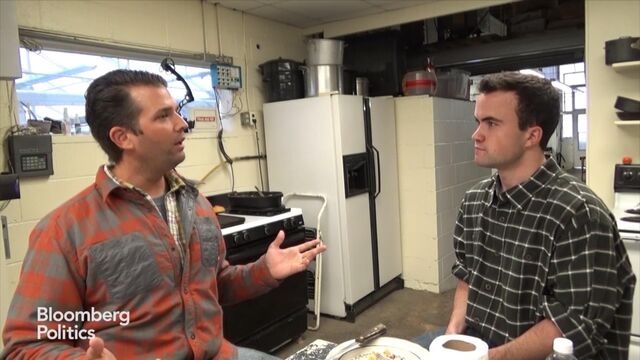 While he said he hadn't read all of Obama's executive orders, he said the actions are typically "designed by people who have never even handled a gun. They don't know what they're talking about.
"The problem is that the laws on books are ineffective laws," he continued. "Why don't we talk about the government enforcing their own laws when they're selling guns to criminals in Mexico—it's insane."
"It doesn't make sense to me. It's action for the sake of action. The left always wants to say, 'We did this to prevent this.' They don't think about the consequences of what that leads to," he said. "They have this quote unquote victory even if it makes no sense. It looks like a win so they can the be so-called first ones to act on an issue. And government shouldn't be run that way."
But despite his frustration with the political process, he didn't entirely shut the door to a political run of his own one day. "My answer today is that I probably wouldn't. I really like what I do. I like being able to build and create. I don't know if I'd do well in the gridlock in D.C. The answer is 'no' now—but you never know."
He also left the door open for a different sort of job opportunity—in his father's administration. (Trump is one of his father's three adult children who serve as executive vice presidents within the family business, along with Ivanka and Eric.)

"The big joke over the holidays was maybe Department of Interior because of my love for the outdoors," he said, laughing. "But the only problem is that they joked I'd go off into Alaska and never be seen again."
"I thought, 'Hey, that's a pretty good job. I could probably do that.'"
Before it's here, it's on the Bloomberg Terminal.
LEARN MORE