Obama Looks to Sway Public as Gun Control Stalls in Congress
by
Obama announced new background check requirements on Tuesday

National Rifle Association not part of CNN-Obama town hall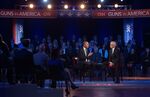 Rebuffed repeatedly by Congress on gun control, President Barack Obama tried once again to sway a somewhat skeptical and ambivalent public.
Two days after unveiling executive actions intended to expand criminal background checks for firearms transactions and streamline rules for reporting mental-health issues that would block a gun purchase, Obama answered questions from gun control supporters and opponents at a town hall-style event Thursday night.
"Part of the reason this ends up being such a difficult issue is people occupy different realities," Obama said, using the example of rural areas where hunting and sport shooting are common and inner city areas where gun violence is rampant.
"There's the reality that there are neighborhoods around this country where it's easier for 12- and 13-year-olds to purchase a gun, and cheaper, than to buy a book," he said at George Mason University in Fairfax, Virginia, at a one-hour event broadcast by CNN.
Obama, in a New York Times editorial published just before the event, Obama called on voters to not support candidates who are against new gun-control measures and said he'll follow suit.
"I will not campaign for, vote for or support any candidate, even in my own party, who does not support common-sense gun reform," he wrote. "And if the 90 percent of Americans who do support common-sense gun reforms join me, we will elect the leadership we deserve."
Even Obama's modest steps, which fall short of the sweeping action he vowed to take after the 2012 Sandy Hook Elementary School massacre in Newtown, Connecticut, drew condemnation from the National Rifle Association, the nation's biggest gun lobby, and from Republicans in Congress and in the presidential campaign.
The NRA posted a petition on its website "that will show politicians that any candidate who supports the Obama anti-gun agenda will NOT GET YOUR VOTE!" House Speaker Paul Ryan, referring to the provision of the Constitution that confers the right of individuals to have firearms, said Thursday that Obama "is frustrating the Second Amendment rights of law-abiding citizens."
Answering Questions
The town hall was on a college campus just four miles from NRA headquarters. CNN, which selected the participants, invited the group to send a representative to the event but it declined the invitation, Shimrit Sheetrit, a spokeswoman for CNN, said by e-mail. 
NRA spokesmen didn't respond to an e-mail seeking comment, but on its website the organization labeled the town hall "the next installment of the Obama Gun Ban Media Circus."
Obama said the NRA has worked to whip up fear among its members that every mass shooting means the government will come for guns. He cited their absence and said he's willing to debate NRA leaders.
Debating the NRA
"I'm happy to meet with them; I'm happy to talk with them," he said at the town hall. "But the conversation has to be about facts and truth and about what we're actually proposing, not some imaginary fiction about how Obama's going to take away your guns."
On Tuesday, in announcing his actions, Obama said he recognizes the Second Amendment rights of gun owners. "It's there written on the paper. It guarantees a right to bear arms," he said. "But I also believe that we can find ways to reduce gun violence consistent with the Second Amendment."
He said the gun lobby has been "holding Congress hostage."
Obama took questions from advocates of gun ownership for self protection, including a rape victim, a sheriff running for Congress in Arizona and Taya Kyle, the wife of decorated Navy Seal Kyle Chris Kyle, whose best selling autobiography "American Sniper" was made into a film. Kyle was shot to death in 2013 by a disturbed veteran he was trying to help. Obama also answered questions from people whose lives have been touched by gun violence.
Blaming Congress
House Democratic leader Nancy Pelosi came to Obama's defense on Thursday at the Capitol, saying he moved to expand background checks because Congress has failed to move on legislation to tighten a law that allows some gun sellers to do business without putting buyers through a criminal background check.
"How many more years does Congress have to refuse to act?" Pelosi of California said during a news conference. Democrats didn't act on major new gun control laws when they held majorities in both the House and Senate during the first two years of the Obama administration.
While the public generally backs tighter restrictions on weapons, particularly broader background checks, they express skepticism that it would reduce the number of mass shootings in the U.S.
In its annual poll on guns, a Gallup poll in October found 55 percent of respondents in the U.S. said laws covering the sale of firearms should be made more strict. That was an increase from 47 percent a year earlier in 2014 but below the high of 78 percent in 1990, the first year of the Gallup gun poll. A third said current law should be kept as is and 11 percent said the law should be less strict.
Eighty-six percent said they support universal background checks for all gun purchases in the U.S., yet 53 percent said such a law would have little or no effect on cutting down on mass shootings.
Friday will be the fifth anniversary of a mass shooting in Arizona that left former Representative Gabrielle Giffords near death. Giffords, a Democrat who, had to leave her seat in Congress because of her injuries but attended Tuesday's White House announcement of the gun measures, along with the town hall event.
Obama tried and failed to get Congress to pass a gun-control law following the shooting deaths of 20 first-graders and six educators in Connecticut. With tears in his eyes, he said on Tuesday that "every time I think about those kids, it gets me mad."
Before it's here, it's on the Bloomberg Terminal.
LEARN MORE