Fame
Hillary Clinton and Donald Trump: A Study in Celebrity Contrasts
The two candidates have used their fame in different ways on the campaign trail.
by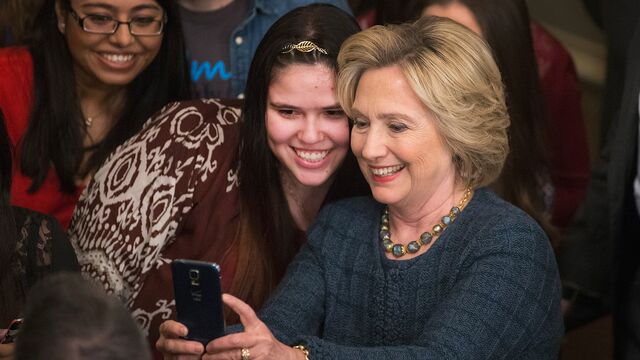 When Hillary Clinton's presidential campaign swept into Sioux City, Iowa, on Tuesday, her entourage headed to the city's famous Orpheum, a 2,690-seat theater that for decades has played host to A-list celebrities running the gamut from Fred Astaire to Jerry Seinfeld. But the Democratic front-runner never took the stage. Instead, her campaign crammed about 300 of her supporters into the theater's lobby. 
"It's more intimate," an organizer said when asked about the venue choice.
For most of her career—starting with the low-key "listening tour" the then-first lady used to launch her political career running for a U.S. Senate seat in 2000, while still living in the White House—she's worked to downplay her fame. As a campaigner, she's always preferred the small roundtable to a big rally. As a rookie senator, she refused to talk to national reporters.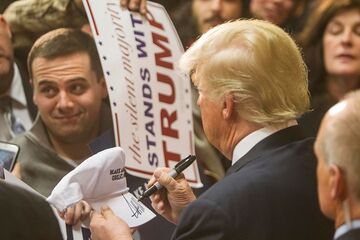 The same can't be said for Donald Trump, the other international celebrity in the hunt for the keys to 1600 Pennsylvania Avenue. In a year when two of the most recognizable Americans on the planet are seeking the nation's highest office, they've played the fame game in strikingly different ways on the presidential campaign trail. In both cases, experts see calculated efforts to achieve the same goal—making voters like them.
"He's saying, 'You can never quite be me—but you can aspire to it,'" said Robert Thompson, a Syracuse University professor who studies pop culture. 
And Clinton? "She's saying, 'I am one of you,'" said Donna Rockwell, a clinical psychologist and an expert on fame and celebrity psychology. "In a culture where fame is currency, both are spending their fame to spin a personal narrative that works to their advantage," Rockwell added. 
Trump's events are made-for-TV spectacles, filled with tweetable moments to feed an insatiable appetite of a social-media driven, viral political cycle. His campaign events are almost exclusively large rallies, most scheduled during prime-time television hours. One of Trump's stock applause lines: Complaining that the TV cameras don't pan the crowd to show how "yuuuuuuuge" it is. "These cameras back here right now—they will never show this crowd," Trump said, in Biloxi, Mississippi, over the weekend. "They're really dishonest people."
During Clinton's two-day tour through Iowa—where's she leading her rival Senator Bernie Sanders in the polls ahead of the Feb. 1 caucuses—she's opted for smaller venues. Her events did not often draw more than 500 people, and she only gave one media interview—with MSNBC's Chris Matthews—during the trip, even as Sanders offered a high-profile speech in New York City proposing more stringent regulations for Wall Street. Clinton "has been having a conversation with voters at events all over the country—talking about her plans and listening to their concerns," her spokesman, Jesse Ferguson, said. "That's what this campaign is all about." 
She frequently takes questions from voters—not reporters—and her aides are keeping count. They say she took 524 questions in town halls in 2015. Trump, in contrast, rarely takes questions from people in the audience, though he frequently offers compliments, such as "I love you, darling" to his adoring fans.
Also notable: the stylistic differences. Clinton, who as a former first lady, U.S. senator, and U.S. secretary of state ranks as one of her country's most well-known ambassadors, kicked off her campaign by driving to Iowa in a suburban-mom-style van and making unannounced pit stops at fast-food joints. Trump, on the other hand, prefers dramatic entrances into events on his own aircraft. In Sarasota, Florida and at the Iowa State Fair, he offered kids and reporters free rides on the Trump helicopter. On numerous occasions, as before his rally last month in Council Bluffs, Iowa, Trump has hosted news conferences aboard his private jet.
While Clinton has infamously tried to downplay the wealth that she and her husband (who own multi-million-dollar homes in both Washington and New York) have accumulated, mostly through speaking fees and book-writing, Trump cites his own financial success as a validator of his acumen. "I'm really, really rich" is another stock line in his stump speech.
Far from downplaying the trappings of a celebrity lifestyle that distinguishes him from the voters whose support he's seeking, the Republican presidential front-runner flaunts them. He strut into debate spin room in Las Vegas last month as if he was walking a red carpet, with his wife, former model Melania Trump, on his arm. He offered comments not only to political outlets, but to entertainment shows like Extra. 
"Trump expresses his wealth in a way that's more gaudy than pretentious," said Thompson. "He's rich in the Las Vegas aesthetic—that's more relatable to middle-class Americans than old money."
In Beaumont, Texas, in November, he equated his campaign roll-out to Hollywood glamor. "You know the famous scene of me coming down the escalator with Melania—it was like the Academy Awards."
Talking of the prospect of taking over the White House, Trump told his Council Bluffs audience "it's a gorgeous place" before quickly qualifying, "Yes, smaller than some of my houses."
The audience hooted and applauded with delight, a possibly surprising reaction in a year when most candidates have hewed to a populist tone and tried to identify with the struggles of middle-class voters.
"Research shows us that there's this notion of reflected glory in fans supporting a celebrity—they see part of themselves or a version of themselves in whomever they're supporting," said Rockwell. "So with Trump's slogan, 'Make America Great Again,' in a way it's absolute brilliance. He's juxtaposing greatness to himself, so if you're for Trump, you're for greatness."
Historically speaking: "Teddy Roosevelt on steroids," she added.
Clinton learned that a less-than genuine attempt to do so can backfire: After telling ABC's Diane Sawyer in June 2014 that she and her husband were "dead broke" after leaving the White House. She received so much criticism that she was forced to walk back the comments two months later, when she told Fusion of what pundits called a gaffe: "I regret it."
Republican strategist Ryan Williams said that Clinton and Trump's differing portrayal of their fame and fortune is an extension of their current political realities.
"Trump is in a competitive primary so he's taking a big and loud approach," Williams said. "Clinton is the clear front-runner but she wants to appear that she's not taking anything for granted."
Thompson noted how the media both online and in television has so far covered the political horse race as if "it were a sporting event."
"You kind of expect them to start handing out Cracker Jacks and peanuts at the debates," he said.
In Beaumont, Texas; Macon, Georgia; and Sarasota, Florida; Trump organizers had the venues open their snack stands.
His supporters stuffed their mouths with popcorn.
—Jennifer Epstein contributed to this article.
Before it's here, it's on the Bloomberg Terminal.
LEARN MORE