UN Security Council Vows Action Against N. Korea for Arms Test
by and
Executive UN arm calls the nuclear test a "clear violation"

Diplomats will immediately begin work on a new resolution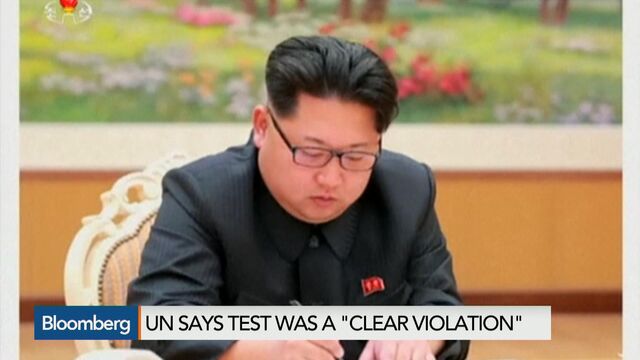 The executive arm of the United Nations pledged new measures in response to North Korea's fourth nuclear test even as weapons experts and the White House dispute the regime's claims to have successfully detonated a hydrogen device far more powerful than an atomic bomb.
The 15-member body strongly condemned Tuesday's test as "a clear violation of Security Council resolutions," according to a statement issued after an emergency meeting in New York to discuss a 5.1-magnitude earthquake detected near North Korea's Punggye-ri nuclear site. Diplomats declined to elaborate what type of action was being considered, though harsher sanctions would be one option.
North Korea has a history of exaggerating its technological prowess and analysts said the blast, which occurred at 10 a.m. local time, was unlikely to have been a hydrogen device because the yield and seismic wave were similar to earlier North Korean atomic bomb tests. Nevertheless, the hostile act drew international condemnation from nations including Russia, Japan and the U.S.
"Based on this initial analysis that has been completed, the initial analysis is not consistent with the North Korean claims of a successful hydrogen bomb test," White House spokesman Josh Earnest told reporters in Washington. President Barack Obama plans to call his Japanese and South Korean counterparts during Asian morning hours, he added.
The UN's watchgroup monitoring nuclear testing around the world may be able to verify within "the next couple of days" what type of bomb the North tested, Lassina Zerbo, executive secretary of the UN Comprehensive Test Ban Treaty Organization, said in Vienna. Weather permitting, the organization may be able to detect radioisotopes, atoms that get released into the atmosphere after a blast, he said.
Embarrassing China
The second nuclear test since Kim Jong Un came to power four years ago is an embarrassment to China, which has led recent efforts to bring the regime back from the diplomatic wilderness. It also reopens the debate about the effectiveness of sanctions meant to bring North Korea back into line.
"This act is profoundly destabilizing for regional security and seriously undermines international non-proliferation efforts," United Nations Secretary General Ban Ki-moon told reporters in New York earlier today. "I condemn it unequivocally."
Further discussions at the UN will be focused on whether China will toughen its stance toward Kim's regime, said Joseph DeThomas, a former U.S. Deputy Assistant Secretary of State for Nonproliferation.
"Until now, China has been willing to use sanctions to express displeasure and to constrain the access of the North Korean nuclear program to outside support. What China hasn't been willing to do is endanger the stability of the North Korean regime," DeThomas said. "That line is what keeps sanctions from having an impact on North Korea, from triggering a change in its behavior to avoid sanctions."
Kim has in the past used provocations to try and win economic and political concessions. Financial markets usually have a muted reaction to the repeated tactic, which involves the ratcheting up of tensions with atomic tests and rhetoric that haven't led to war. While Asian stocks and the Korean won did fall on Wednesday, most of the declines came before the detonation.

Surprise Timing
The timing, though, took some analysts by surprise: In a new year message last week Kim pledged to "actively" work to improve ties with South Korea. It also risks angering Chinese President Xi Jinping, who sent a high-ranking envoy to Pyongyang in October carrying a handwritten letter seeking deeper cooperation.
China wasn't informed in advance of the test and is "steadfast in its position that the Korean Peninsula should be denuclearized," Foreign Ministry spokeswoman Hua Chunying said in Beijing.
China still has some pull with North Korea but is worried about using it, Council on Foreign Relations President Richard Haass said on Bloomberg Television. "I would argue that the real goal for American foreign policy is to bring about a sea change in Chinese thinking," he said. "That it's riskier to tolerate a nuclear North Korea than it would be to put pressure on a nuclear North Korea."
Tougher Sanctions
The most likely response to North Korea's test will be more economic sanctions, IHS Country Risk said in an e-mailed statement. South Korea may also temporarily close the Gaeseong industrial complex it jointly runs with North Korea, IHS said.
"From a domestic point of view, this is another way that Kim Jong Un asserts his power at home and his independence from Xi Jinping and China," said John Delury, a historian at Yonsei University in Seoul. "What have they got to lose? There will be some hustle and bustle at the UN Security Council. There will be more sanctions, but they are already sanctioned to death."
If the test was of a hydrogen weapon, North Korea would join a small group of nations, including the U.S. and China, known to possess the capability. U.S. officials have previously said it was unlikely the regime could have developed a hydrogen bomb, and have also challenged its claims it was capable of miniaturizing a nuclear device to mount it on a missile. North Korea says its rockets can reach parts of the U.S.
Disputed Claims
North Korea's claims of putting a satellite in orbit in 1998 and again in 2009 were also disputed by South Korea and the U.S., before the nation achieved the feat in December 2012. Image experts have also accused North Korea of doctoring photos of military drills or floods before releasing them to the world.
"North Korea may be claiming a successful hydrogen bomb test because it's not grabbing much attention with atomic bombs," said No Hee Cheon, a professor at the nuclear and hydrogen system laboratory of the Korea Advanced Institute of Science and Technology in Daejeon. "Today's magnitude falls short of what we would see if a hydrogen device indeed was detonated. The magnitude today is even below the level of an ordinary atomic bomb."
Proof that North Korea has been able to develop a thermonuclear device would help Kim further emerge from the shadow of his father, Kim Jong Il, who died suddenly in December 2011 with little time to groom his son for the leadership. Kim is believed to be in his early 30s.
"Either way, it means Pyongyang has advanced its nuclear game," Li Bin, a senior associate focused on nuclear policy at the Carnegie Endowment for International Peace. "North Korea has been working on the militarization of its nuclear warheads for many years. The test marked their latest step."
Before it's here, it's on the Bloomberg Terminal.
LEARN MORE