Eligibility Index
Trump Says Cruz's Canadian Birthplace May Be 'Big Problem'
The Republican front-runner suggests that the candidacy of his Canadian-born rival could be "tied up in court for two years."
by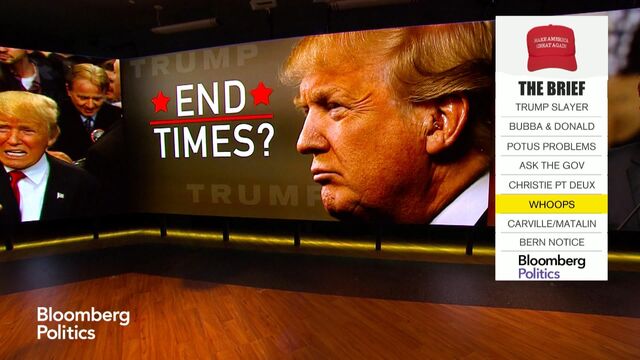 Donald Trump returned to his political roots this week by questioning whether one of his foes is even eligible to become president. This time, Trump's target wasn't President Barack Obama; it was Ted Cruz, the Republican runner-up in national polls who may pose the greatest threat to Trump's nomination.
Trump is taking a different approach this time around. Rather than flat-out insist Cruz is disqualified from the presidency, as Trump did in 2011 with the Hawaii-born Obama, the real estate developer is claiming to be concerned that Cruz's Canadian birthplace (which didn't stop him from becoming a U.S. citizen at birth thanks to his American mother) could get his candidacy tied up in courts.
"Republicans are going to have to ask themselves the question: 'Do we want a candidate who could be tied up in court for two years?' That'd be a big problem," Trump told the Washington Post in an interview published Tuesday afternoon. He continued, "I'd hate to see something like that get in his way. But a lot of people are talking about it and I know that even some states are looking at it very strongly, the fact that he was born in Canada and he has had a double passport."
While the courts haven't ruled on the question, legal scholars broadly agree that the qualification for the presidency under the U.S. Constitution—that the candidate be a "a natural born Citizen"—applies to a person born to an American citizen parent regardless of where the birth took place. Cruz was born in Calgary, Canada, to an American mother and Cuban father.
Cruz laughed off Trump's insinuation on Twitter. A spokesman, Rick Tyler, responded with a one-word answer—"no"—when asked if he'd comment further.
Trump and Cruz clashed earlier when the Texan portrayed himself as tougher on illegal immigration than the New Yorker, who has made immigration a central issue in his campaign. During a speech Tuesday in Claremont, New Hampshire, Trump didn't mention Cruz by name or allude to his birthplace, but suggested that the first-term senator copied his idea to build a wall on the Southern border.
Trump's supporters at the rally didn't sound bothered by Cruz's place of birth—for the most part.
"No, he's an American," 55-year-old Richard Paskerta of Charlestown, New Hampshire, said of Cruz. But Pasterta said he'll "definitely" vote for Trump, saying he wants a fellow businessman in the White House.
"I hadn't heard that. But the fact that he was born in Canada, that wouldn't stop me from voting for him. He'd still be my second choice," said Tony Perras, a retiree who lives in Unity, New Hampshire, and said he has decided he'll vote for Trump in the primary.
"I'm gonna give you a smart-ass answer and say I never saw Obama's birth certificate either," said Sandy Woodmansee, 58, of Epping, New Hampshire. "Gosh, I don't know. If he's legally entitled to run we should give him all due process."
A 47-year-old corrections officer from Concord who identified only as Mike said Cruz's Canadian birthplace would stop the Texan from being president "if they gonna stick with the law." But he also insisted that Obama was "definitely not" born in the U.S. "It stopped [Arnold] Schwarzenegger, but it didn't stop Obama," the man said of the natural-born-citizen prerequisite for the presidency.
Mike plans to vote for Trump because "I think he's the greatest," but said Cruz is "not a bad guy" even though he's a "lifelong politician."
Before it's here, it's on the Bloomberg Terminal.
LEARN MORE