Saudi Showdown With Iran Puts Strain on Decades-Old U.S. Ties
by and
U.S. officials urged against execution of Shiite cleric

`This is a power play' by Saudis, former official Nasr says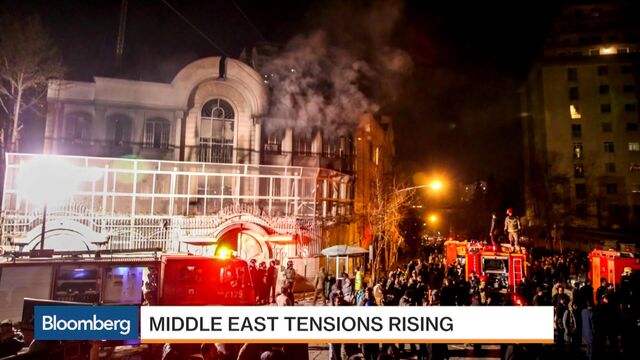 The alliance between the U.S. and Saudi Arabia -- an almost century-old friendship at the heart of American policy in the region -- is coming under growing strain as the Sunni-led kingdom engages in an escalating Cold War with Shiite Iran.
With President Barack Obama entering his final year in office, tensions between the regional powers put at risk Obama's initiatives in the Mideast, from ending the war in Syria to combating Islamic State terrorists and improving relations with Iran. In each, the U.S. counts on Saudi support, or at least acquiescence.
Now the Saudi breach with Iran is being viewed by some as a deliberate attempt to undermine Obama's broader efforts, at a moment when many of those plans are faltering and Saudi assistance is crucial, particularly in Syria.
"This is a power play," said Vali Nasr, a former State Department adviser. "The Saudis are showing the U.S. that they are capable of dominating regional politics."
While the U.S. usually has offered only muted criticism of the kingdom's human-rights record, administration officials emphasized Monday that they had urged against plans for mass executions, including the killing of cleric Nimr al-Nimr, a critic of the kingdom's treatment of its Shiite minority.
The Saudis went ahead with the executions anyway. Protesters in Iran responded by setting fire to the Saudi embassy in Tehran, and the Saudis broke off diplomatic relations with Iran. The result is the biggest meltdown between the two regional powers in almost three decades.
Bloomberg Brief: Saudi Arabia-Iran Tensions
The Saudis may have executed al-Nimr "to stir the pot a bit in the last year of the Obama presidency, when he may be looking to fortify the Iran deal and leave his mark on the region," said Brett Bruen, former director of global engagement for Obama's National Security Council and now president of the Global Situation Room consulting firm. "This may be an attempt by the Saudis to try to disrupt those efforts."
Saudi Arabia's relationship with the U.S. already had been strained by Obama's refusal to back Egyptian president Hosni Mubarak in the Arab Spring protests that toppled him, perceptions the U.S. hasn't pressed hard enough for Syrian President Bashar al-Assad's ouster and conclusion of the U.S.-led nuclear agreement with Iran.
While the Iranian deal will probably proceed, bolstered by the Obama administration's support and the interest of Iran's trading partners in resuming economic ties, the tensions are an obstacle to broader improvements in relations between the U.S. and Iran. The Saudis and their Sunni allies went along with the nuclear accord reluctantly, warning that Iran remained intent on undermining them and supporting terrorism.
Presidential Politics
In the U.S., the latest events in the Middle East will add fodder to the narrative of Republican presidential candidates that Obama has been an unsuccessful president, said Paul Pillar, a senior fellow at Georgetown University's Center for Security Studies and a former senior CIA official.
"It will be folded under the overall theme that the Middle East has become a greater mess under Obama, and here's an indication of how big the mess has gotten," he said.
The widening rift between Iran and Saudi Arabia worsens sectarian fault lines throughout a region where tensions between Sunni and Shiite populations drive many local conflicts.
"The Obama administration has kind of lost control of the dialogue, the agenda in the Middle East right now," said Karen Young, a senior fellow at the Arab States Gulf Institute. "We're not playing the deciding role. I think what's happening with Iran and Saudi Arabia right now is they're both realizing they can be spoilers."
Syria Talks
Prospects for a political settlement in Syria are now "very dim," said Edward Djerejian, a former assistant secretary of state for Middle East affairs and ambassador to Syria, who's now director of Rice University's Baker Institute for Public Policy. "There was at least some modicum of progress. Now that is put very much in doubt."
Saudi Arabia, which has aided Sunni rebel groups in Syria, and Iran, a military backer of Assad's regime there, are key parties in international talks that seek to bring to the negotiating table the Syrian government and its opponents. The Obama administration has said such an accord is needed so that all parties can concentrate on fighting Islamic State terrorists.
Obama's strategy in Syria and Iraq depends on building governing institutions that are credible to both Sunnis and Shiites.
"This will make it much more difficult to show progress" against Islamic State, according to Nasr, who's dean of the Johns Hopkins University School of Advanced International Studies. "Now our terrorism policy becomes like pouring water into sand. It's just not going to go anywhere."
In Iraq, the sectarian tensions will make it harder for the Shiite-dominated government to build on the recapture of Ramadi to regain control of other Sunni-majority areas of the country, large sections of which are now held by Islamic State.
It may also make it harder to halt a resurgence of the Taliban in Afghanistan because cooperation from neighboring Iran is crucial, Djerejian said.
"The U.S. is stuck in a region that it can't fix and it can't leave," said Aaron David Miller, a vice president of the Wilson Institute and former Middle East adviser to Republican and Democratic administrations. "It's trapped by unreliable allies pursuing agendas that conflict with the United States and problems that simply are not amenable to resolution by conventional American military or political strategies."
Despite the new complications, the White House isn't likely to make any major change in its approach to the region during the limited time before a new president takes office, Miller said.
"The arc of this administration's policies in the Middle East is set," Miller said.
Before it's here, it's on the Bloomberg Terminal.
LEARN MORE