Curveball
Are Curt Schilling's GOP Politics Keeping Him Out of the Hall of Fame?
People scoffed when he said it last year—but statistics show he might have a point.
by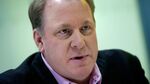 Nearly one year ago, former Red Sox, Diamondbacks, and Phillies pitcher Curt Schilling claimed, to near-universal derision, that the fact that he was an outspoken Republican was costing him votes for the Hall of Fame. When asked by WEEI Radio why John Smoltz, who had been inducted, received 240 more votes than him, Schilling said: 
"I think [Smoltz] got them because of [Greg] Maddux and [Tom] Glavine. The fact that they won 14 straight pennants I think... his Swiss Army knife versatility... I think he got a lot of accolades for that, I think he got a lot of recognition for that and he's a Hall of Famer so… and I think the other big thing is, I think he's a Democrat, and so... I know that as a Republican that there's some people that really don't like that."
 Schilling later backtracked from his remarks, saying he was just kidding.
It has been a difficult year for Schilling since that last Hall of Fame vote. In September, he was suspended by ESPN, where he worked as an analyst for "Sunday Night Baseball," after regularly sharing anti-Muslim sentiment on his Facebook page, and had that suspension extended after an angry public back-and-forth with a sports blogger. (This did not slow Schilling's Facebook posting down.) He did return for studio analysis during the playoffs and, with one year left on his contract, is expected to be on ESPN for the 2016 season. But whatever way you slice it, in 2015, Schilling's thoughts on politics were far more discussed than his thoughts on baseball.
On Wednesday, the Baseball Hall of Fame will announce its 2016 class and, more relevant to this conversation, the results of its voting. But we already have an idea of how it will turn out. Ryan Thibodaux is a baseball fan who has gained a considerable following as the premier tracker of Hall of Fame voting, hunting down media ballots and compiling them in a spreadsheet. This year, he has tracked down 31.8 percent of ballots, an especially high number considering the (bewildering) privacy of the average Hall of Fame voter. He's an invaluable resources for not just predictions, but also analyzing voter trends. Think of him as the Hall of Fame's Frank Luntz.
For 2016, vote totals for all candidates are up dramatically, across the board. This makes sense. Last year, four players—Smoltz, Randy Johnson, Craig Biggio and Pedro Martinez—were inducted, clearing out a ton of ballot space for 2016 voters. (You are only allowed 10 selections on a ballot, even if you believe more than 10 candidates should be in the Hall.) Thus, players like Edgar Martinez, Jeff Bagwell, Mike Mussina and Tim Raines are almost certain to receive more votes than they ever have before.
According to Thibodaux's projections, Ken Griffey Jr. is a shoo-in this year—he has been on every ballot Thibodaux has tracked so far—and Mike Piazza has an excellent chance to finally make it in (he's on 87.4 percent of ballots so far, with a 75 percent threshold), with Jeff Bagwell having an outside chance as well. But it's perhaps most fascinating to look at Curt Schilling's vote totals. Because when you break it down, it is difficult to argue with Schilling's initial claim, the "joke" in his interview: He is, most likely, losing votes for the Hall of Fame because of his politics. 
To be clear: Schilling's vote total is likely to rise, as it has in past years—just by smaller increments than one might expect. Here are is vote percentages in his first three years on the ballot:
2013: 38.8 percent
2014: 29.2 percent
2015: 39.2 percent
In Thibodaux's compilations, Schilling has been listed on 60.8 percent of the 143 public ballots, but his actual percentage total will be far lower. (Voters who make their ballots public consistently vote for players at a much higher percentage than those who keep them private, though changes the Baseball Writers Association of America to the voting scrolls may alter that in future years.) Nonetheless, even accounting for a fall, that's a substantial improvement.
The problem is that Schilling's numbers are rising far, far more slowly than every other candidate. The pitcher Schilling is most often compared to in Hall of Fame voting is Mussina, a contemporary of Schilling's who put up similar career numbers, minus Schilling's postseason success. (The two players are right next to one another on Jay Jaffe's JAWS ratings, which attempts to put a numerical value on a players' Hall of Fame case, though it is widely considered that Schilling's postseason dominance puts him ahead.) Mussina retired a year after Schilling; here are his vote percentages for his two years on the ballot:
2014: 20.3 percent
2015: 24.6 percent
This year, though, Mussina has soared, to 56.6 percent. Among returning voters—voters who Thibodaux has tracked the ballots of consecutive years—Mussina is up a whopping 23 votes. He and Edgar Martinez have gained the most votes from people who did not vote for them last year … likely people who have more spots on their ballot after the four electees in 2015.
But Schilling is barely up at all. He is up only seven votes among those same voters. Here's Thibodaux's tracking of who is up at what rates: 
What reason could there be for Mussina to be up so dramatically—and Lee Smith, even—while Schilling is barely creeping up? Mussina has now almost completely closed the gap with Schilling. What has changed in the last year? Schilling hasn't become a worse pitcher in the last 12 months. Why would Schilling's numbers not be close to keeping pace with Mussina's, or Piazza's, or Bagwell's, or even Barry Bonds'?
Thibodaux has little doubt as to the reason.
I asked Thibodaux if he thought Schilling's controversies concerning his politics was affecting his vote totals. "There isn't a better explanation that I've heard," Thibodaux said, and pointed out that, because of the increased available slots on the ballot, almost no candidates are losing votes from last year. Among tracked voters, here are the number of votes they have "lost"—the voter voted for them last year, and not this year—from 2015:
Jeff Bagwell: 0.
Tim Raines: 0.
Mike Piazza: 0.
Roger Clemens: 1.
Mike Mussina: 2.
Curt Schilling: 7.
"Essentially, nobody is losing any significant number of voters," Thibodaux said. "Except for him."
When the vote totals are released on Wednesday, Schilling's numbers will be up, just like everyone else's will. But this will not be a refutation of Schilling's (probably not actually joking) claims. In all likelihood, it will be evidence of them.  Curt Schilling's vote pace has fallen behind his fellow ballot members dramatically in the last year, even though he hasn't thrown a pitch, has not been involved in any sort of PED scandal and has had more ballot space available to him than ever. Either baseball writers have collectively re-evaluated Schilling's entire career in the last 12 months, or they've found another reason to leave Schilling's name off their ballot.
Only one thing has changed in the last 12 months: Schilling's propensity for putting things like this on his Facebook page.
Maybe you agree with Curt Schilling's politics, and maybe you don't. Maybe you think he's obnoxious and should be a little quieter about his off-field beliefs to stop distracting people from what he did off the field, or maybe you think he should scream his views from the nearest mountaintop. What appears undeniable, a year after his comments, is that he was exactly right: His right-wing views have cost him votes. The proof is right there in the numbers. Here's betting whatever Mike Mussina's politics are, he makes sure to keep them to himself. 
Before it's here, it's on the Bloomberg Terminal.
LEARN MORE